As you might remember from my Instagram a few weeks ago, I got to experience the stylish beach hotel, Tower23 in Pacific Beach. I remember coming to this modern boutique hotel for an event 7-8 years ago and being in awe after watching the sunset from the rooftop. I have been wanting to stay here since that day so when I was invited to stay and write about the hotel, I jumped at the opportunity. The last few weeks have been hectic but I'm finally sharing my Tower23 hotel recap with you guys. To make this post as interesting and helpful as possible, I decided to share 5 things I enjoyed about my stay. I also created an IG highlight titled 'Tower23 Stay' for you guys to see my stories from my stay in case you missed.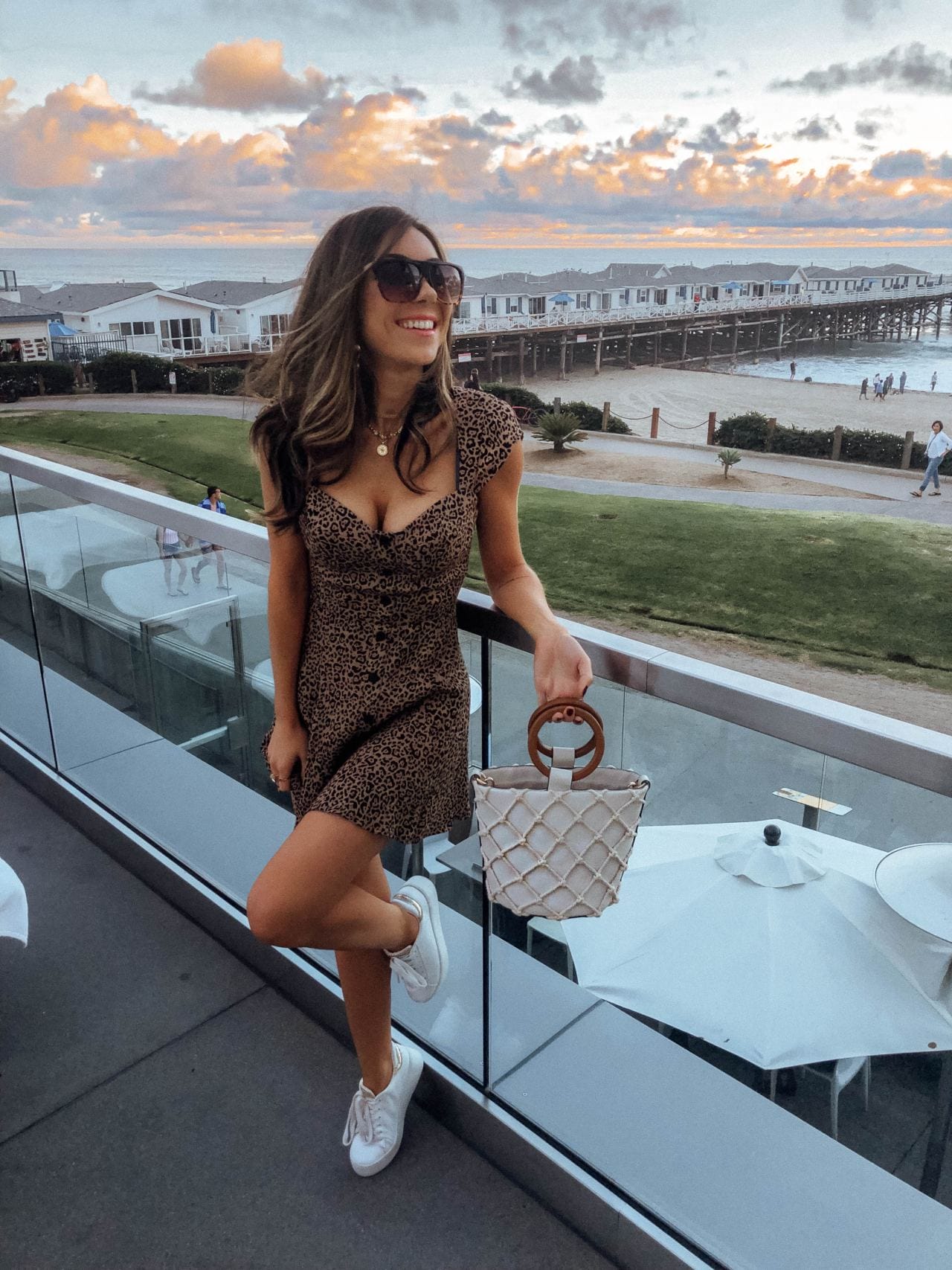 THE LOCATION: Tower23 is not only very central, but it's also only a couple of steps away from the beach and Pacific Beach Pier.
If you're local, Tower23 is perfect for a local staycation while not having to drive far. You can even uber/lyft from your house to Tower23. You don't have to spend 2+ hrs and juggle with traffic to get here, which kinda defeats the purpose of a relaxing beach getaway. I'm sure you know what I'm talking about if you've driven to LA, Palm Springs, Las Vegas or Mexico and regretted the drive.
Whether it's a one night stay for a special occasion/celebration or a San Diego vacation, Tower23 is one of the most conveniently located hotels in San Diego. Plus, they have an amazing restaurant so you literally don't leave your hotel. The beach is literally 5 steps away so you have everything you need at here for the ultimate beach staycation.
I have friends living in the area who bike around the boardwalk every day and they spotted me while I was sunbathing at the rooftop 🙂 When I say Tower23 is right on the beach, I'm not kidding. You just have to see it for yourself!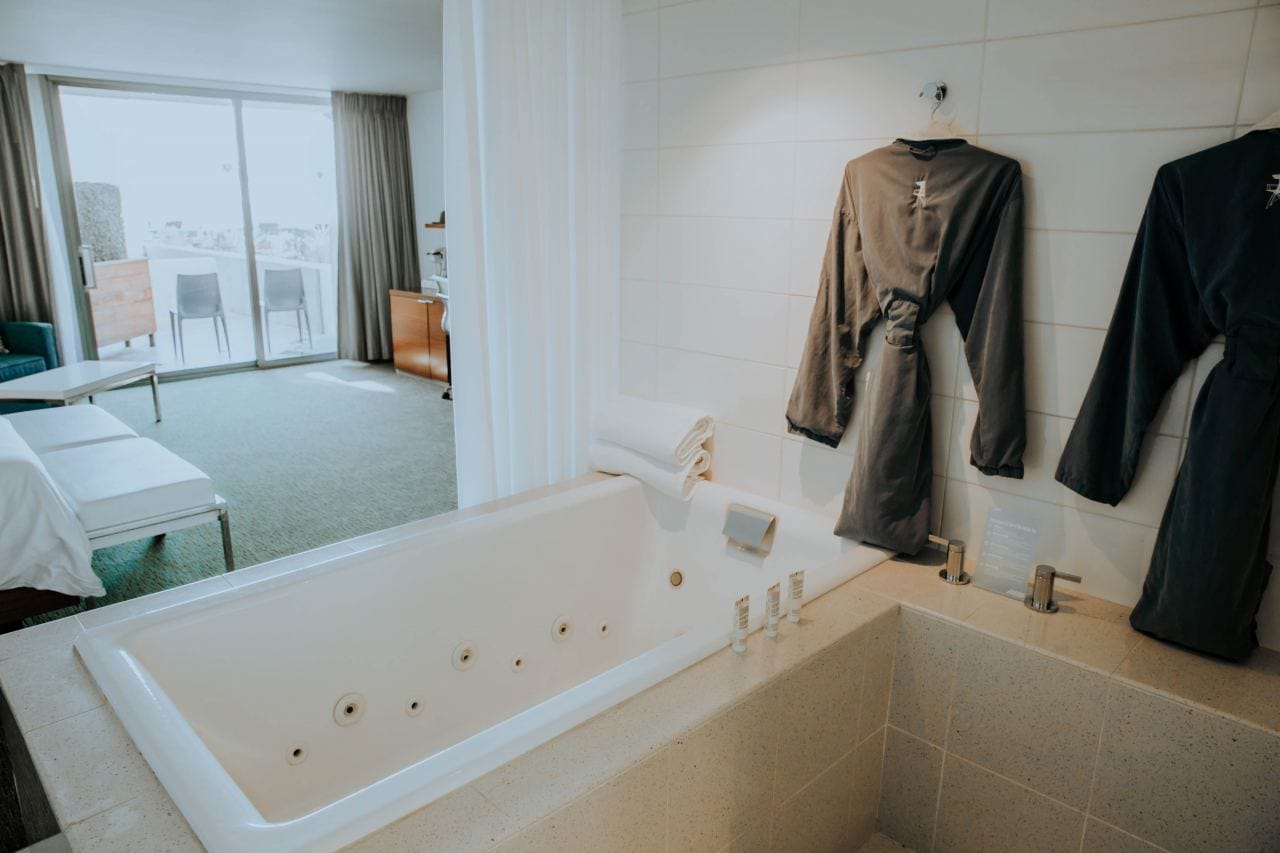 2. THE RESTAURANT – JRDN: I was very impressed with the food at JRDN. I used to go eat at JRDN pretty often a few years back- both for lunch and dinner, but the menu seemed a little different this time. I'm pretty sure they updated their menu recently. Everything we had was super delicious and most of the dishes were out of the box. It's a sophisticated menu with a Japanese twist and the dishes are pretty good sized. I'm not a big fan of tiny appetizers or small entrees so if you're like me, you'll definitely leave JRDN with a full belly and a smile on your face.
For appetizers, we got the Korean style lamb lollipops and Kobe beef sliders. I definitely recommend both but the lamb lollipops are something I'd go back to JRDN for. Being from Turkey, I grew up eating lamb chops and variations and I don't see a lot of restaurants in San Diego serving lamb chops aka lollipops – so this was a treat for me. For entrees, my friend got the vegetables + wild rice (she's vegetarian) and I got the Wagyu New York Strip. I know I know, that'a lot of meat for a petite girl like me, but I changed my order from Halibut to steak after being so impressed with the lamb lollipops. The New York Strip is definitely a filling dish and quite expensive, but it's worth it. It's also perfect for sharing which is something I do all the time with my friends at restaurants.
No dinner at a hip restaurant is complete without desserts, so we decided to try the Chocolate Futomaki which looked exactly like sushi chocolate. Don't be scared, 'cause it's not actual sushi. It's a chocolate dessert dressed in a sushi outfit which means it's very Instgarammable. I've never had anything like it before – even on my trips to Japan. I like trying new things and flavors so I highly recommend this dessert for hipster foodies like myself.
For drinks, we got little MOET bottles which complemented our food picks.
They also have a happy hour during the week which is from 3:30 pm – 6 pm. While I was waiting for my girlfriend for some girl time that typically included happy hour rosé + sunset, I was already 2 glasses of rosé down and pretty grateful for my life 🙂 The happy hour doesn't include food but they have amazing drink specials like $6 house red, white and rosé wine (Can you tell I'm a rosé girl at heart?) + bubbles, $6 well cocktails, $6 hot or cold sake and $6 Sapporo drafts. I'm mostly interested in the rosé obviously but I want to go back soon to try more of their Japanese dishes and their happy hour sake deal as well.
3. THE VIEWS/FUNCTIONAL ROOMS: The view at Tower 23 is breathtaking. It's such a nice escape from the hustle & bustle of the city.
I stayed at the Sanctuary Suite and it was a big room with a super comfy bed, modern furniture, little kitchen area (perfect for making drinks with friends), a fancy open bathroom with a jacuzzi, shower and sink area. I appreciated the spacey vanity and bathroom area a lot! Perfect for ladies to get ready, do their make-up and hair etc. Whether you're taking a quick shower or enjoying a long jacuzzi session, you can watch TV from the bathroom area. I didn't have time to use the jacuzzi since my stay was only for one night, but I'd definitely do it if I had more time.
The view from my room was pretty incredible too. Even though I had to shoot and work most of my stay, I still enjoyed the amazing view from both from my room and the balcony. I LOVED that I can see the skyline from my bed and bathtub – even while I was working on my laptop, I was still able to take in the views which made working my room more pleasing.
If you're planning a longer stay, I recommend spending a lot of time in your room and balcony to enjoy the incredible views. It's a perfect place for catching surreal sunset and sunrise views.
4. PERFECT FOR DISCONNECTING: Even though Tower23 is right in the middle of the city, it's not very difficult to disconnect from the world if you want to. Just turn your electronics off, enjoy the view and take walks on the beach. It's a boutique hotel with a limited number of rooms which makes it more intimate and private.
I spent a few hours on the rooftop admiring the ocean and sunbathing during my stay and it was so relaxing. I know by looking at social media you might think I'm somewhere new every day and always have a fun time – but in reality, I'm always running from one place to another and constantly shooting, so this was actually my first this summer (or fall) spending a couple of hours sunbathing and disconnecting. Can't wait to do it again! My phone died while I was laying out in the sun and I couldn't find any outlets in the rooftop, which made disconnecting even easier for me.
These reasons make Tower 23 great for honeymoons, anniversaries or just relaxing getaways.
5. EXPLORE SAN DIEGO EASILY:
If you're not the one to disconnect or you're staying at Tower23 while visiting San Diego, you have a great home base to explore the city. Whether you want to check out the nature and beach life of San Diego, do some shopping, or see the hipster areas and cool restaurants, this is a great spot to explore San Diego as well.
There are so many things to do and see in San Diego, and Pacific Beach is in the middle of La Jolla and downtown San Diego which are two of the most touristy areas. If you want to learn more about my recommendations for things to do and see in San Diego, make sure to read THIS BLOG POST where I go in detail about exploring San Diego.
If you're looking for a modern and stylish stay while being just a few steps away from the beach in San Diego, definitely put staying at Tower23 in your bucket list! I hope you guys enjoyed this recap and the photos!
xoxo
Nihan