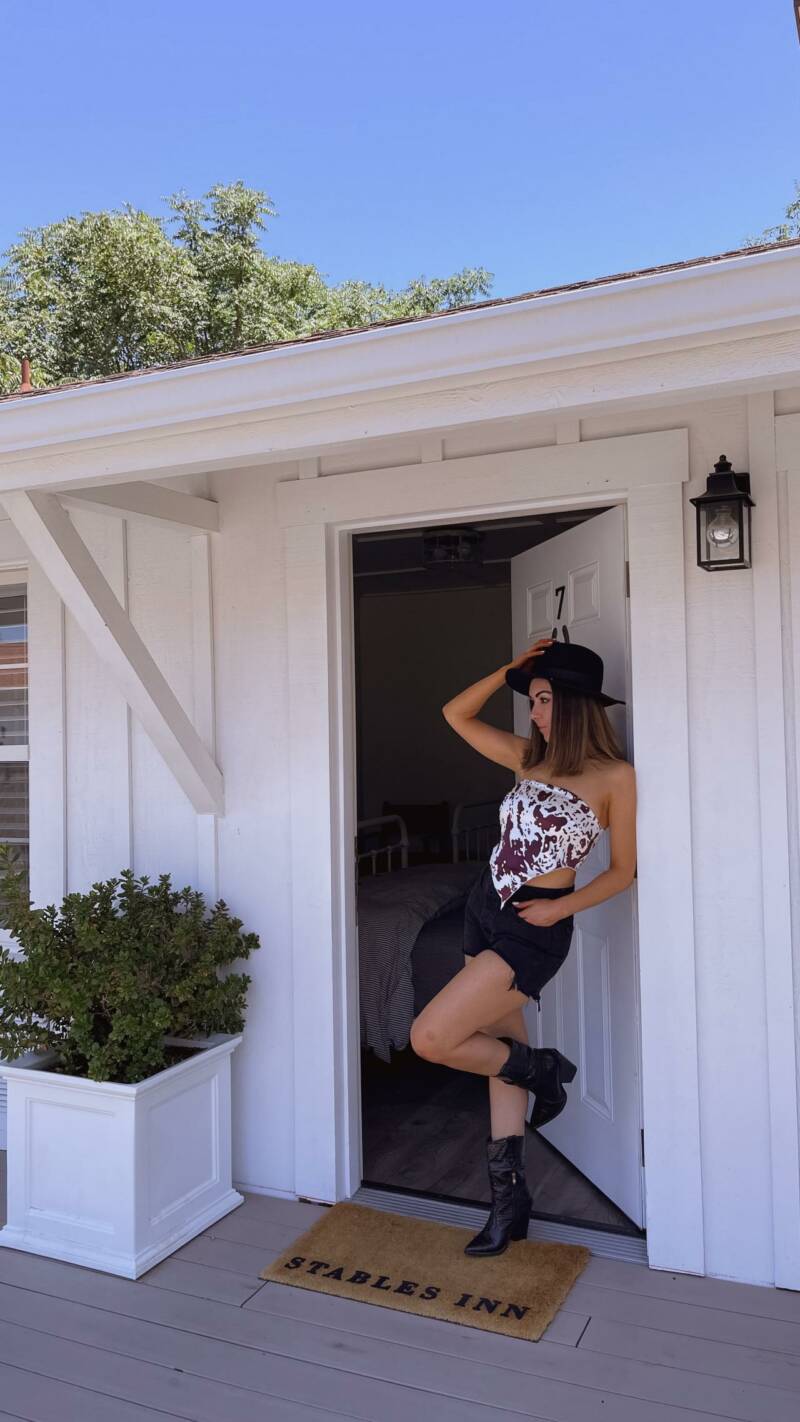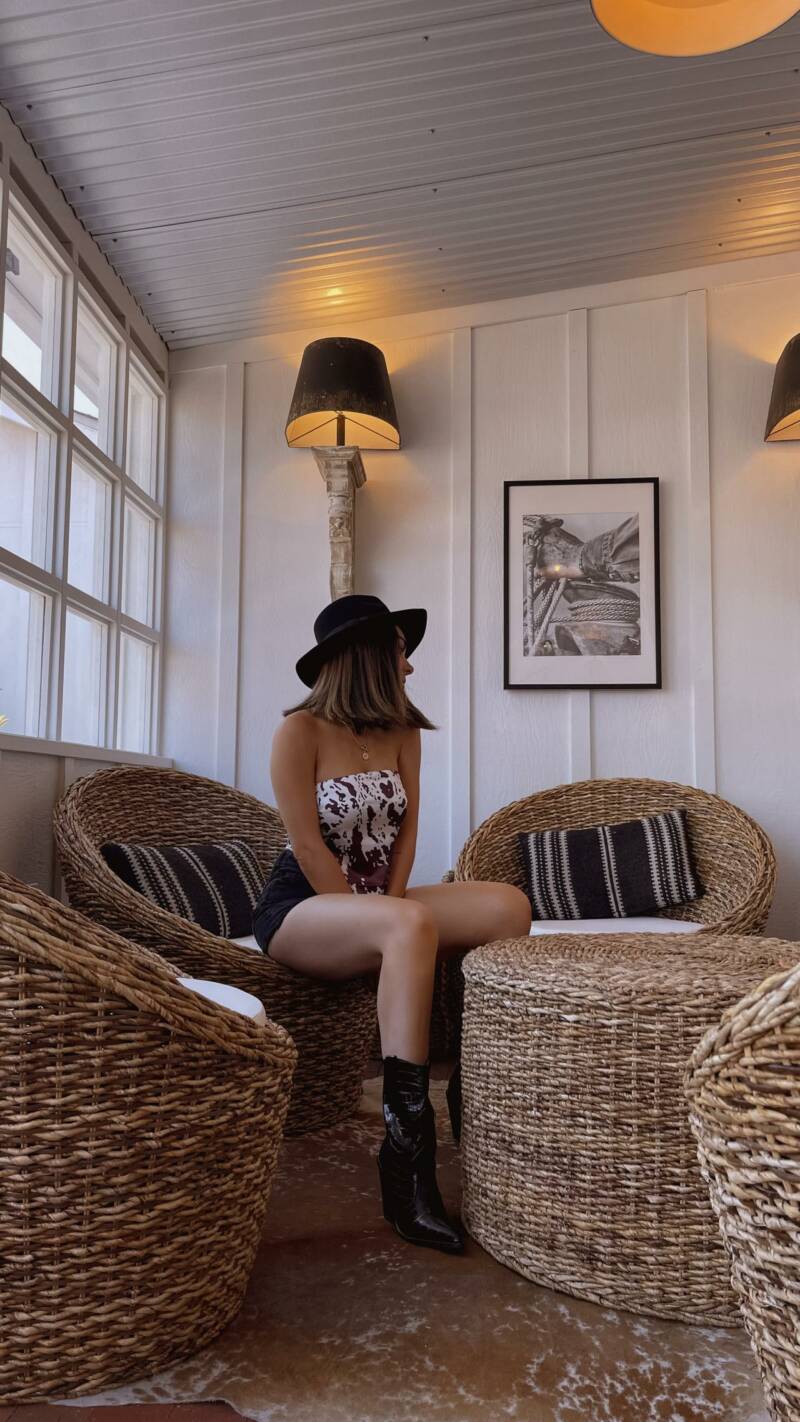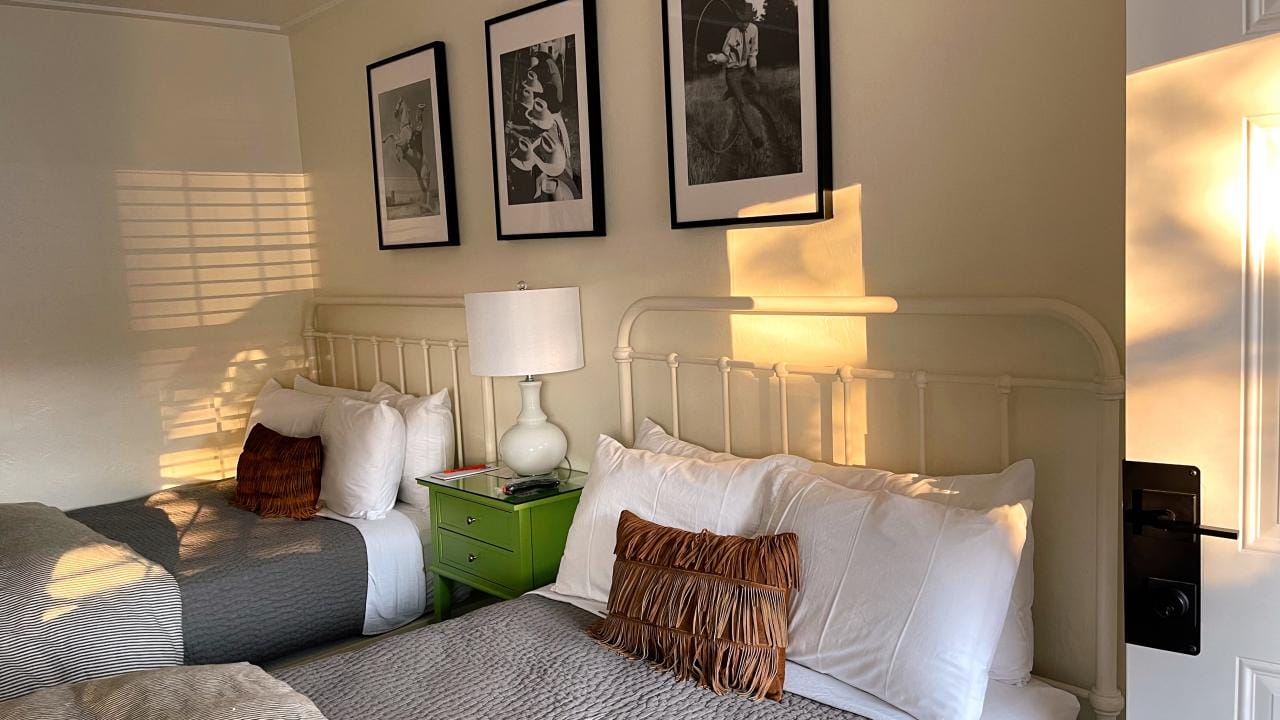 On my most recent trip to Paso Robles, I discovered a cute, charming inn called 'Stables Inn.' We stayed there for one night before hitting the road to New Cuyama, but I still wanted to share this gem with you.
There are 18 rooms at the property, which I love—the more intimate, the better. Our room (a double room) and the bathroom were decent sized for two people. Western and equestrian-inspired details like the shower curtain with the horse and man (their logo), mugs with the same print, wooden chair, and stool add lots of character to the room. As I was researching, I found out that long before Paso Robles became the epicenter of California's Central Coast wine region, it was horse country. So the horse-themed concept is very appropriate.
Vibes are low-key, with no restaurant or pool at the property. Downtown and restaurants are very close, though. The location is excellent for walking around Paso Robles and exploring the wineries in the area. The cute courtyard area with a fire pit makes you want to sip wine, relax and enjoy the fire. We were on a tight schedule this time, but I plan to enjoy it next time.
They offer complimentary coffee in the Tack Room, which is a shared space next to the lobby. The sliding barn doors, rattan chairs, and vintage black-and-white photos make the Tack Room the most Instagrramable corner of the property. There's also a hot water station to make tea, etc., in this area. They leave pastries in the mornings, which I had to pass since I follow a gluten-free and dairy-free diet.
Even though Stables Inn opened last summer, it already made Travel+Leisure's "It List" of the best new hotels in the world, which is how I heard about them.
I have a video tour reel of my stay at Stables Inn – watch it HERE. Also, if you want to watch my Instagram stories from Paso Robles, you can watch them HERE.
We booked our room for $244.03, which isn't that bad considering how crowded and booked Central California is this summer. Book your stay at stablesinnpaso.com.
STYLE
After seeing pictures of Stables Inn's western decor, I knew I had to style a cowboy/cowgirl-themed look to match the vibes. Did I pull it off? See links to my outfit below. My entire look is from Revolve.com
LINK for my cow print top
LINK for my black denim shorts
LINK for my hat
LINK for cowboy boots