If you haven't heard of Palisociety yet, you're missing out! I first stayed at their Melrose location back in the summer of 2012, and I loved how urban chic it was! Fast forward to 2021, and they're one of the top up-and-coming boutique hotel chains in the US! I'm a fan of their website, social media, and overall content. In fact, @Palisociety is officially one of my favorite accounts to follow on Instagram. Honestly, they do a great job with everything they do.
I recently had a chance to stay at their Westwood Village location, and I'd move in whenever!
The building is historic, home to Westwood Village's first hotel in 1939. Very cool. Fantastic location for new students, families, and business people who are looking for a central location, but seeking a quiet and peaceful vibe.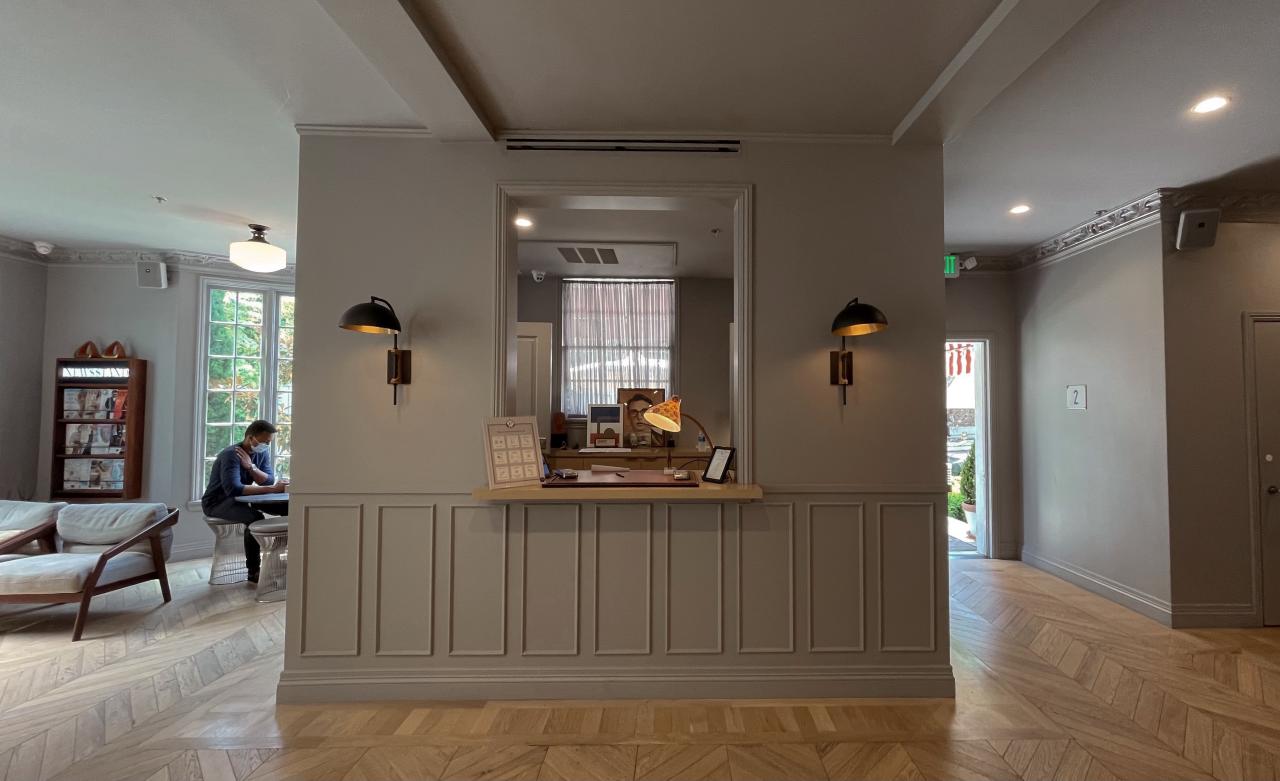 The lobby and garden are clearly the property's highlights. As soon as you enter the main door, the airy lobby welcomes you with a trendy natural palette, marshmallow-like, uber-chic couches, and mid-century modern furniture. From the magazine stand to the communal kitchen and coffee area, to the two work/dining tables beneath huge windows and an abundance of natural light, I pictured this lobby as a stylish and cozy Venice loft (aka my dream house)… or one of them. 🙂
The lush urban garden gave me romantic vibes with stylish touches like the fountain and checked tile floors. The lush urban garden gave me romantic vibes with stylish touches like the fountain and checked tile floors. We hung out there a few times, brought other laptops, and claimed it our outdoor office.
While researching and gathering inspiration for our stay, I had my eye on the Garden Queen Double Room. I'm not sure how many of these rooms they have, but I was pleased they could accommodate us in one of them. Tasteful details like the sherpa-covered headbands, beautiful art pieces, chairs, and marble bathroom/sink area make the room elegant and stylish. The full-length mirror and mini closet are much appreciated by style gals like me (mirror selfies are for OOTDs). The beds were too comfortable to leave, and the robes were too luxurious to take off. There is no coffee machine or kettle in the room, but the barista-style Nespresso machine available 24/7 in the communal area makes up for it.
The white French windows overlooking the garden were absolutely my favorite part of the room!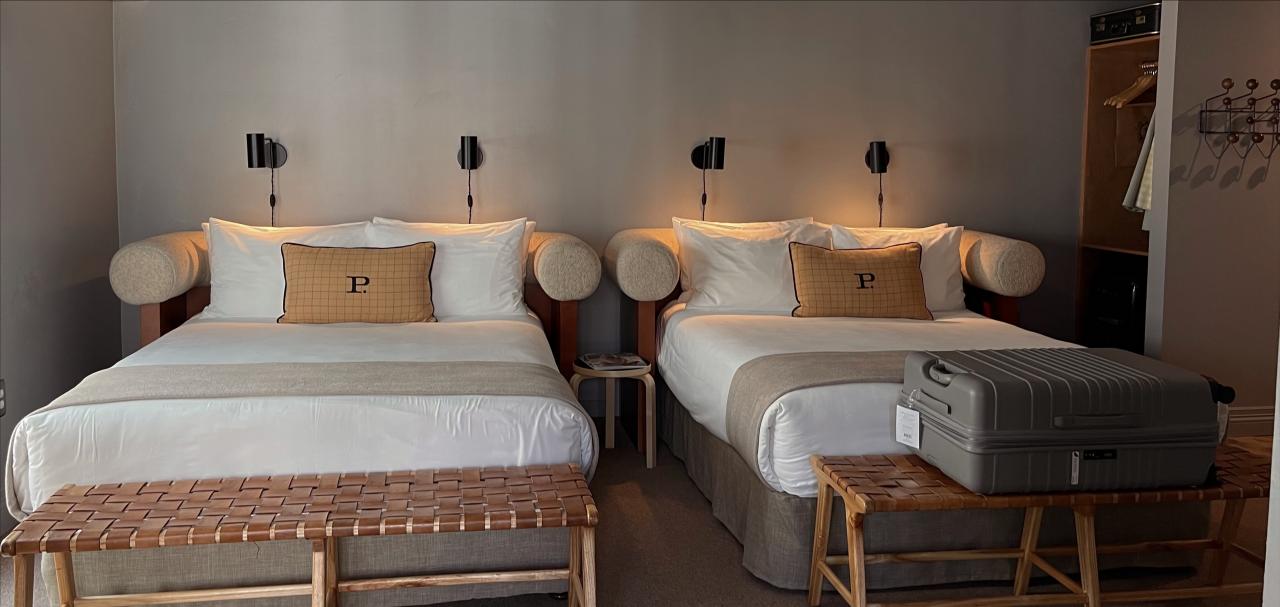 The hotel is pet-friendly, and I brought my dog with me. The dog bed, supplies, and toys were on-brand as well.
The hotel manager, Hector, was too kind during our stay and even carried all of our luggage (mind you, I don't travel light) to our room on the 2nd floor. Shout-outs to Hector!
Next up on my list are Palihotel's Santa Barbara and Santa Monica locations! They look so dreamy and peaceful. Maybe for my birthday in October or a weekend self-care retreat?
I have a reel of my stay/property tour from Palihotel Melrose Village – watch it HERE. For my Instagram stories from this stay, click HERE.
xoxo
Nihan
Outfit links:
Coral Jumpsuit (Lovers & Friends)
Green Dress (Camila Coelho Collection)
Black top (Superdown), Ripped Denim (Topshop)
White trousers (Song of style)
Yellow Blazer (Camila Coelho Collection)