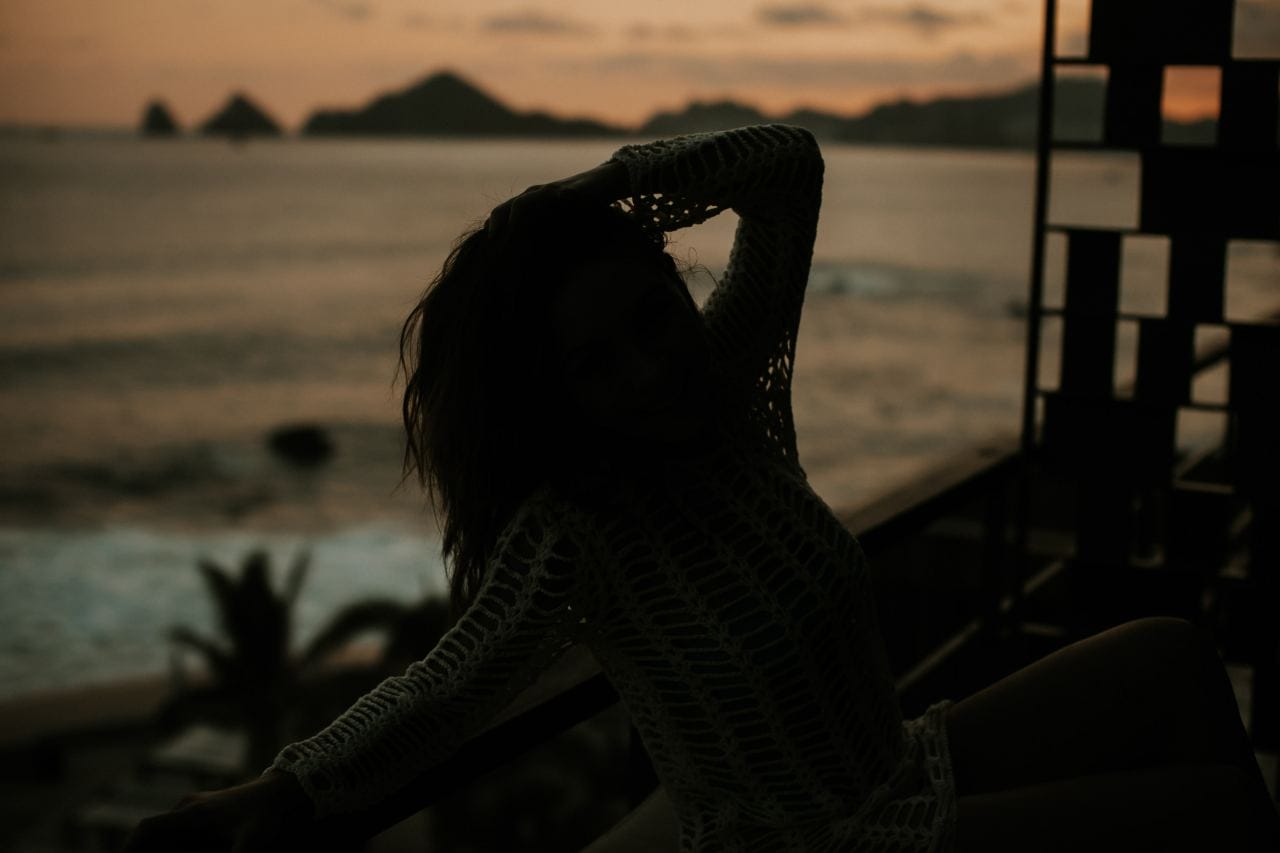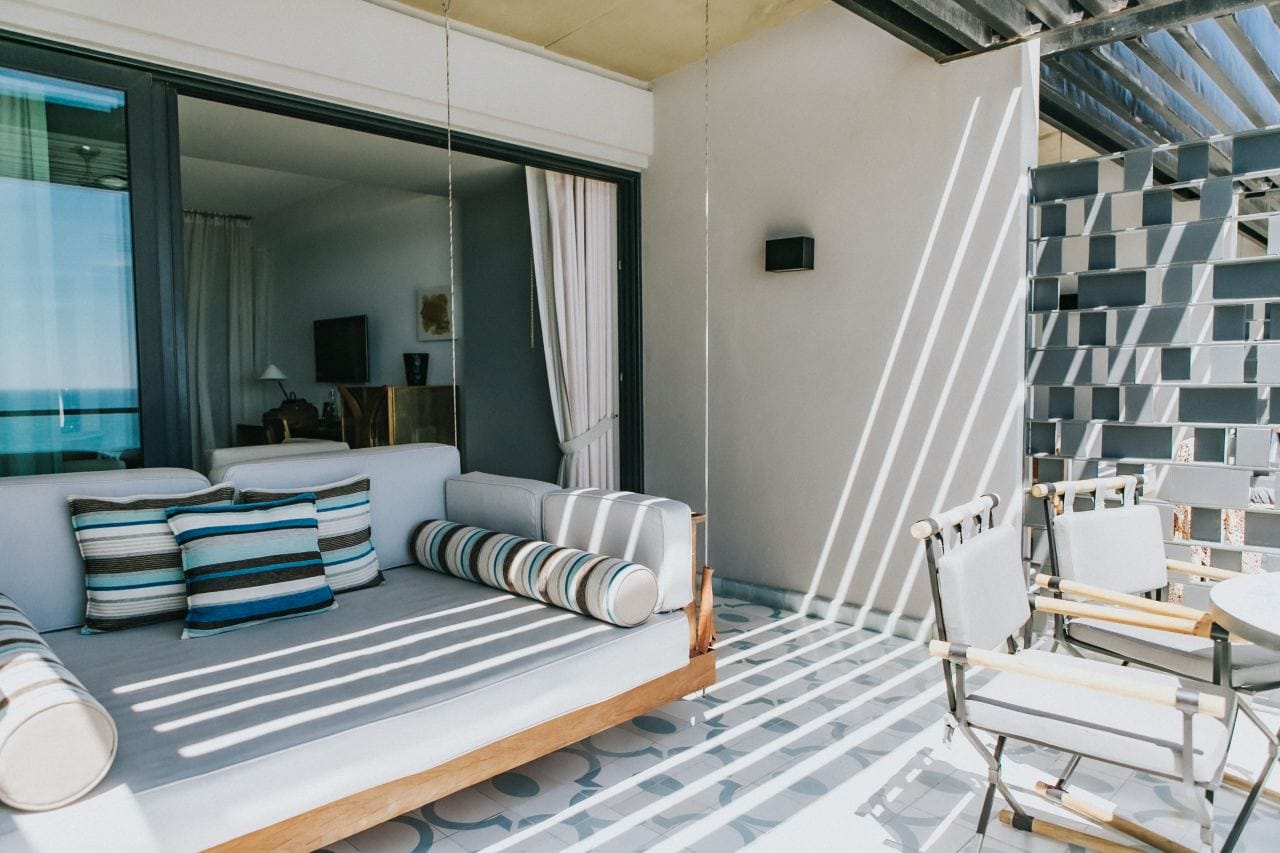 Refreshing, modern, sleek, energizing, sexy, and luxurious.
This would be my Elevator Pitch if I were pitching Cape Hotel in Cabo San Lucas, Mexico, to an angel investor, or J.Lo if I was inviting her to stay.
To be 100% real with you, the first time I visited Cabo, or Los Cabos (I'm still unsure what the difference is) for a wedding, I loved how beautiful the area was – but I was not impressed with the spring-break and party-people crowd.
Because of this mixed first impression, Cabo remained off my travel radar for a long time. Instead, I went to Tulum and other areas of Mexico every year.
But…there was one hotel in Cabo I kept my eye on over the years, and I secretly wanted to give Cabo a second chance.
Last month, I finally planned a mini getaway to Todos Santos, and since I was flying to Cabo airport, this seemed like the perfect opportunity to finally check out this hotel. And yes, you guessed it right. This hotel is called The Cape Hotel.
And I am so glad I did! It exceeded my expectations.
Let's get into detail about what struck me about this hotel. Shall we?
1. Impressive design
When I say design, you know I'm not saying that lightly. I've been pretty obsessed with 'Design Hotels' in the past years, and most of the hotels I stay at are Design Hotels approved. The Cape Hotel is no exception.
The modern industrial hotel's creator is famous Mexican architect Javier Sanchez, who did an exceptional job of mixing the Baja aesthetic with a fresh, relaxed, modern California vibe.
If you follow me on Instagram, you already know the small saltwater pool and the zero-entry infinity pool, from where I posted multiple videos and photos. The tiny cactus garden, hip statement furniture that reminds you of the Santa Monica Proper, the pool table with one of the best views in the property, and the trendiest rooftop bar in Cabo, are worth taking mental pictures of for #TBT posts. Or a million photos if you're like me and not ashamed to share hundreds of images from your trips.
2. Open space and breathtaking ocean views
Breathtaking views and magical sunsets should be a tagline for The Cape Hotel.
While I was trying to convince the staff to give me the room with the best view (who else does that at hotels?), they told me that the hotel is linear, and each room has a complete ocean view. I read that Mr. Sanchez designed the hotel so that El Arco and the Sea of Cortez are visible from every part of the property.
If you're not familiar with El Arco, it's a granite rock formation at the tip of the Baja Peninsula with a wow factor — most people see it up close by taking a boat or water taxi. I personally haven't seen it up close yet, but hopefully next time.
3. The rooms that give me JLO on vacation vibes
I got a similar feeling walking into my room. The mesmerizing balcony overlooking the ocean and the huge swing bed were enough to give me JLO-on-vacation vibes and lots of content opportunities.
It felt so nice being able to sit out there and relax.
Beach modern (I mean, the tiles!), with a touch of masculine elements, and sleek and industrial textures like wood, stone, and leather, gives the room an elegant, clean, and sexy feel. The tile floors in our space were absolutely stunning. I still think about them.
Details like the copper tub with a view of the ocean, the swing bed, which was my favorite spot for my morning meditations and journaling, the frameless glass, rain shower — all added up to the sexiness of the room. The shower walls were glass, which meant it steamed up a lot. This is perfect for going with a friend — the steam can help you avoid an awkward situation. If you're looking for more privacy and want to avoid the possibility of your roommate seeing you naked, you should probably get your own room.
The robes and slippers were cozy and cuddly. We might have or might not have taken the slippers with us.
See the room tour of the room we stayed in HERE.
4. The staff and cleanliness of the property
The staff was super friendly, helpful, warm, and kind. From the bellboys to the pool staff, everyone did an outstanding job. I wish I wrote down their names for more special shout-outs.
Traveling in the middle of a pandemic is a controversial topic. I was definitely anxious.
As we entered the hotel, we noticed a big booth [where] that reminded me of an airport security booth, except this one was for sanitation. Right away, I was impressed by the precautions that this hotel was taking, and it was clear that they had a priority for cleanliness and safety. Everything seemed sanitized and clean. There were hand sanitizers throughout the property. The ones in the elevators are a must-have — all the time, for every hotel.
The staff wore masks and they were super careful to follow social distancing protocols. The sanitary kits that included masks, hand sanitizer, and alcoholic wipes in our room were a great touch.
5. Irresistible food and MANTA
Absolutely one of my favorite parts about The Cape Hotel was the variety of fresh and healthy food options. Perfect for wellness babes like myself, who always ask for the dairy-free and gluten-free options at restaurants.
We had breakfast at The Ledge every morning. Give me all the fresh, exotic fruits, green juices, and all the traditional Mexican egg dishes, please! Yum! My favorite breakfast ever! Honestly, I'm thinking of going back just for the breakfasts I had there.
For dinner, upscale and fancy-chic Manta was our favorite. Manta is known for its famous executive chef Enrique Olivera, the chef behind Pujol in Mexico City, which is named one of Mexico's best restaurants. While researching him to get more info, I learned that he's also behind New York's Cosme and Atla and, he's opening a new spot in LA soon! I plan to be the first person to eat there.
Back to Manta. While the indoor seating area looked appealing, we couldn't give up on watching and listening to the waves while we had our amazingly delicious and fancy food.
The first thing they'll bring you is something they call 'A SNACK,' and it's complimentary. If you're Mexican, then you probably know what it is. It's a creamy avocado puree, and jalapeño dotted crispy rice cracker. Yes, you heard it right, my friends, this snack is real. How come none of the Mexican restaurants in SoCal make this 'SNACK'?
I asked for a second' SNACK,' (and would've gone for a third, if I hadn't felt so embarrassed – I didn't, though). The staff is fantastic — they don't judge. I'd say go for it and ask for more 'SNACKS.' I repeat: they're complimentary! 🙂
Our dinners at Manta made it to my list of best dining experiences of my life. And I'm already planning a trip to Mexico City, just to eat at Pujol every day, three times a day.
How to get there: Fly to Los Cabos airport and rent a car (much cheaper than a shuttle). It takes 30-50 minutes from the airport to the hotel, (longer if you're like me and have the skill of missing exits). The exits and turns on that road are very confusing, so I recommend being extra careful.
Final words: Leave your kiddos at home before going for a fancy vacay at The Cape Hotel. There are hundreds of other hotels that your kids will enjoy more, and let The Cape stay hip, chic, and Instagrammable for the grown-ups.
I recommend booking on Hotel Tonight (Use my code NGRKEM to get $50 off your booking).
xx
Nihan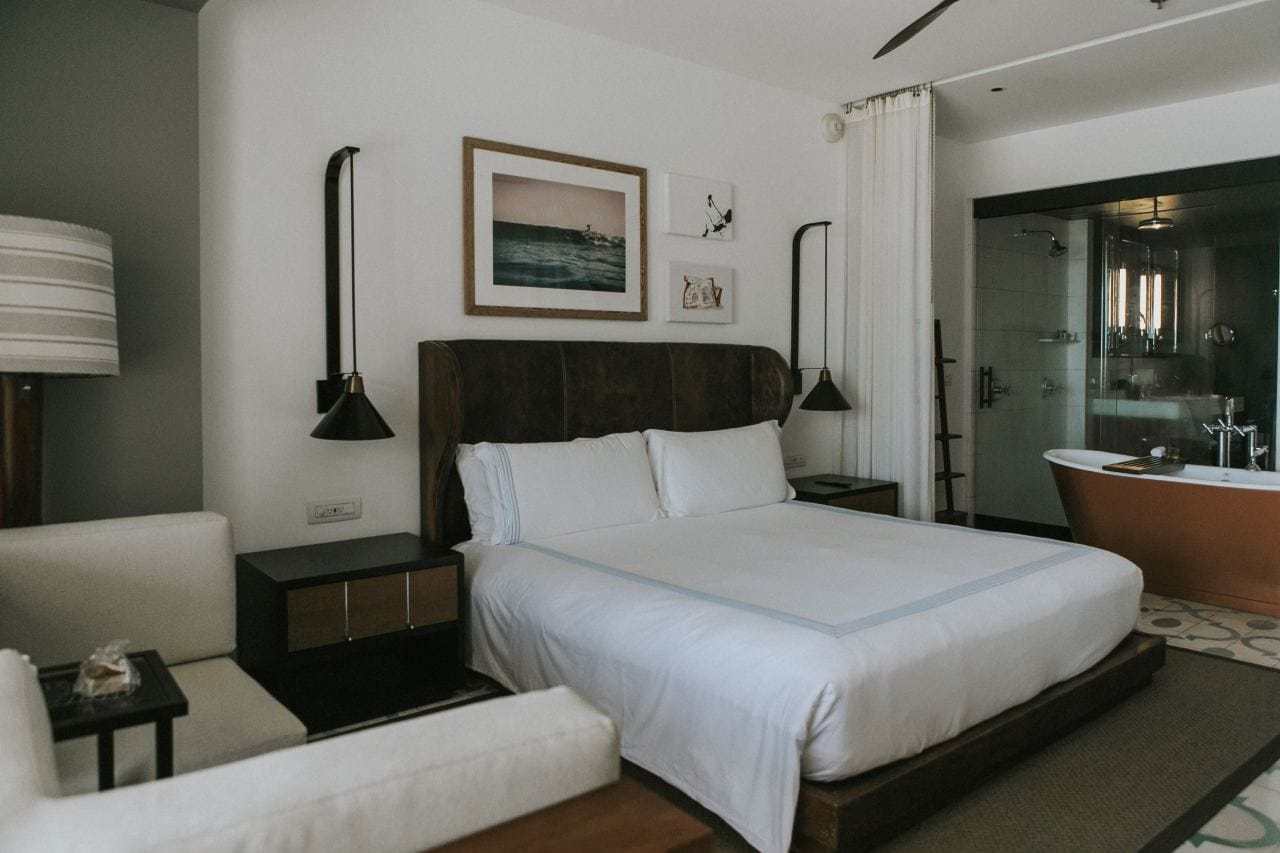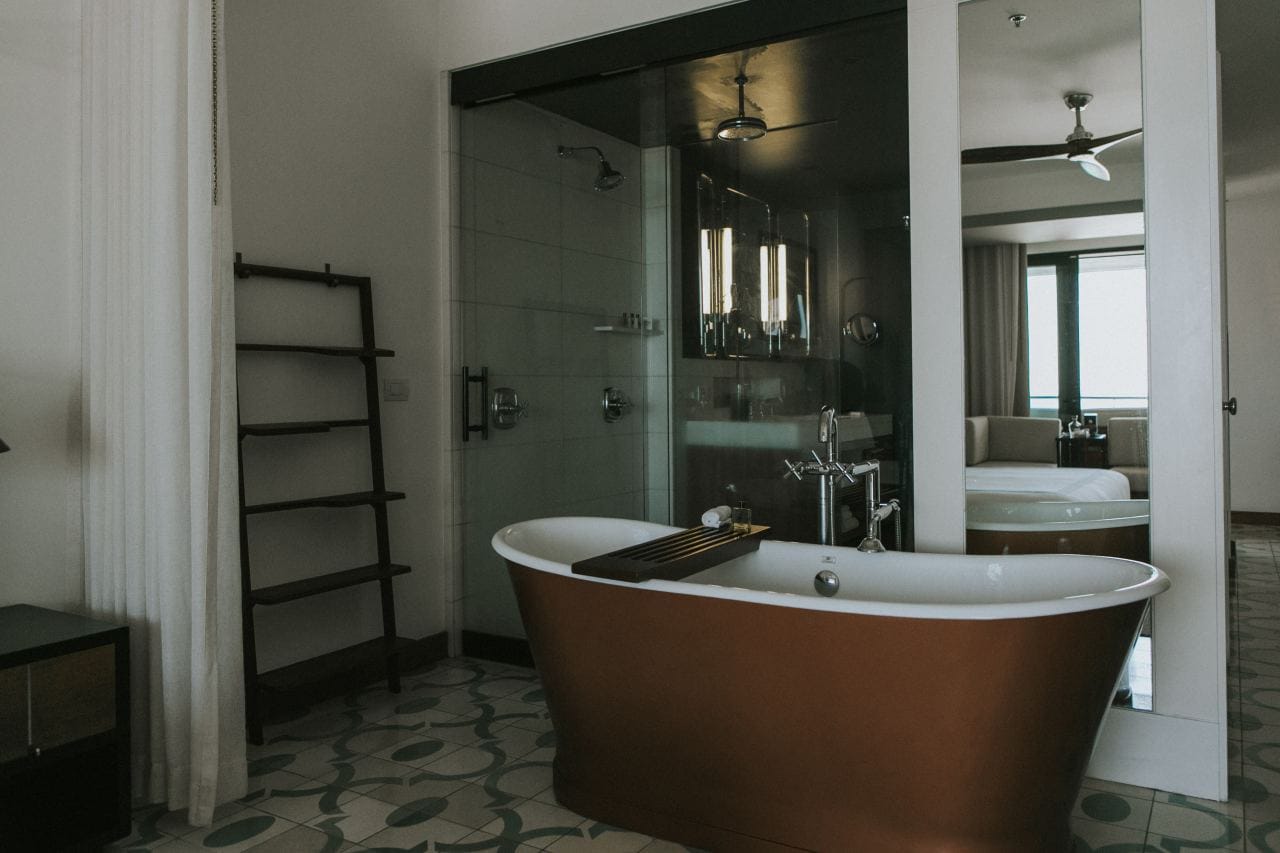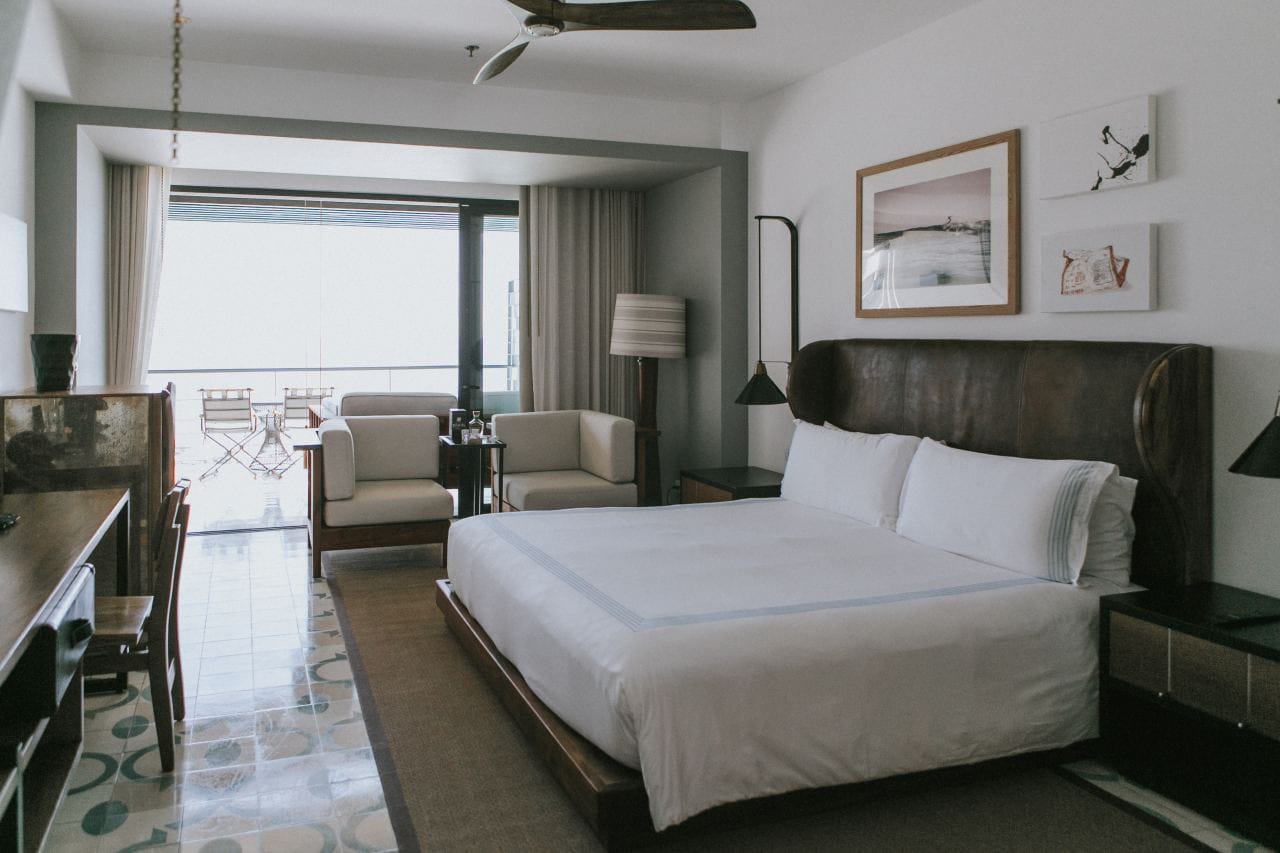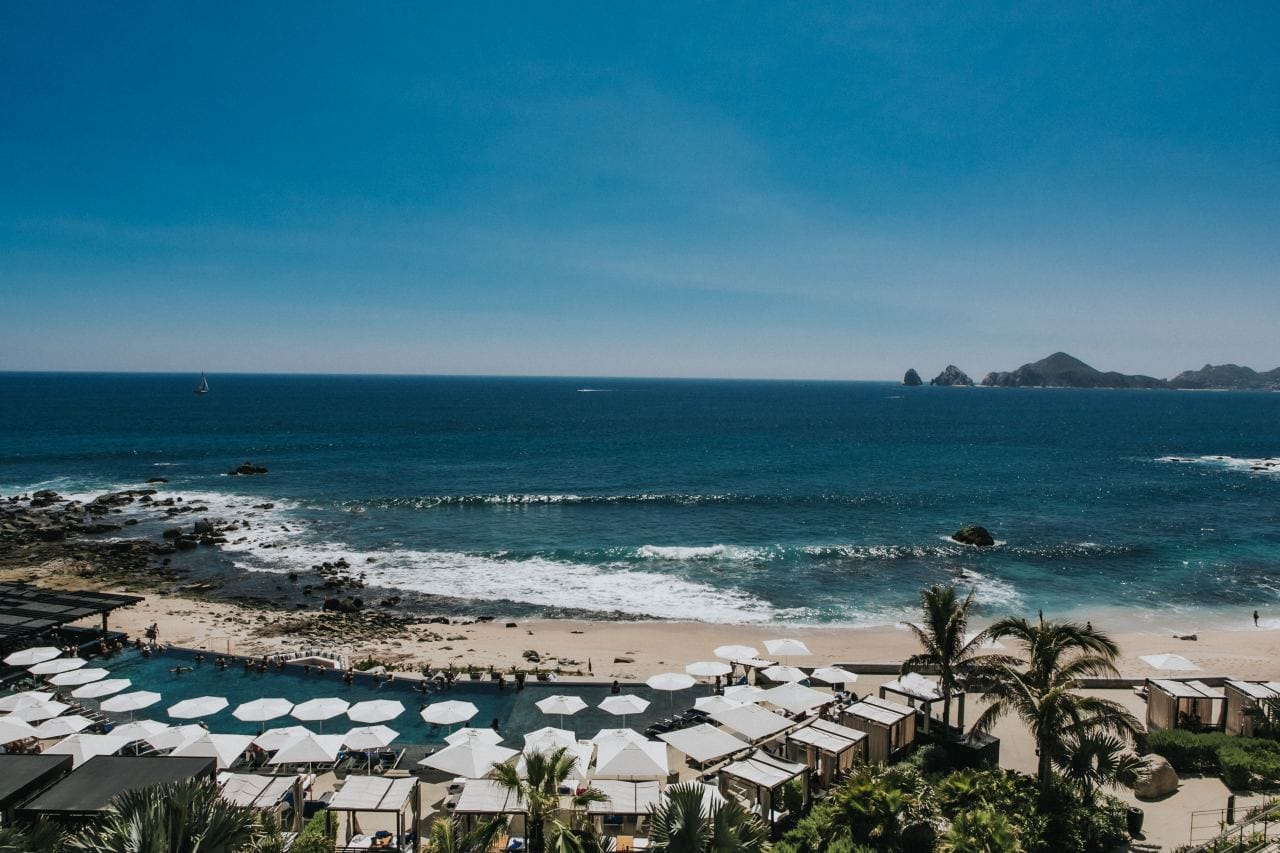 Photos taken by Hiedi (@photosbyHiedi on IG), at Cape Thompson, in Los Cabos, Mexico. You can find lots of content from this trip on my Instagram.