After a fun yacht party in Newport Beach with a bunch of blogger babes last week, me and my besties decided to make a quick stop in Laguna Beach on the way back to San Diego. I've always loved Laguna Beach since I moved to Cali and try to visit as much as I can. If you've never been before, I definitely recommend checking it out! It's worth the one hour drive from SD or LA. Thousand Steps Beach is one of my favorite beaches in California, and yes you need to go down the stairs to get to this semi-hidden beach. There are not actually 1,000 steps – only 220, but keep in mind that it can get a little tough on the way back! Perfect spot for a workout that leads you to an Instraggamble beach 🙂 Whenever I'm there, I see a lot of people working out at these stairs and I'd def do the same if I lived in Laguna Beach. And then hang out at the beach to watch the sunset, read a book or meditate 🙂
I don't think I will ever get tired of sharing my love of one piece swimsuits with you all. I'm trying to get creative though, and trying to show you different styles and different ways to wear them.
If you guys read my post from last week, you know that I'm obsessed with leopard print right now. But it's not the only print I'm loving! POLKA DOTS are another "it" trend this summer, and when I saw this one-piece swimsuit from River Island, I didn't even think twice. It's only $68 and super flattering and sexy!
I decided to keep the sneakers from the look I was wearing at the yacht party because I'm digging the edgy and sporty chic looks lately. Since the swimsuit is a little on the sexy side, pairing it with sneakers and earrings make this beach look a bit more casual.
Since I pulled back my hair into a top bun, it was the perfect opportunity to show off the beautiful hoop earrings. The cool girl vibes of the sneakers and earrings added just the right amount of edge to this swimsuit. White sneakers are one more trend I love this summer (never ending trends!), and River Island has so many cute trendy + stylish ones under $60 including the ones I'm wearing.
Last but not least, I threw on a pair of denim shorts to amp up my 'went to the beach' look and kept wearing the swimsuit as a top.
Are you guys into polka dots lately like I am?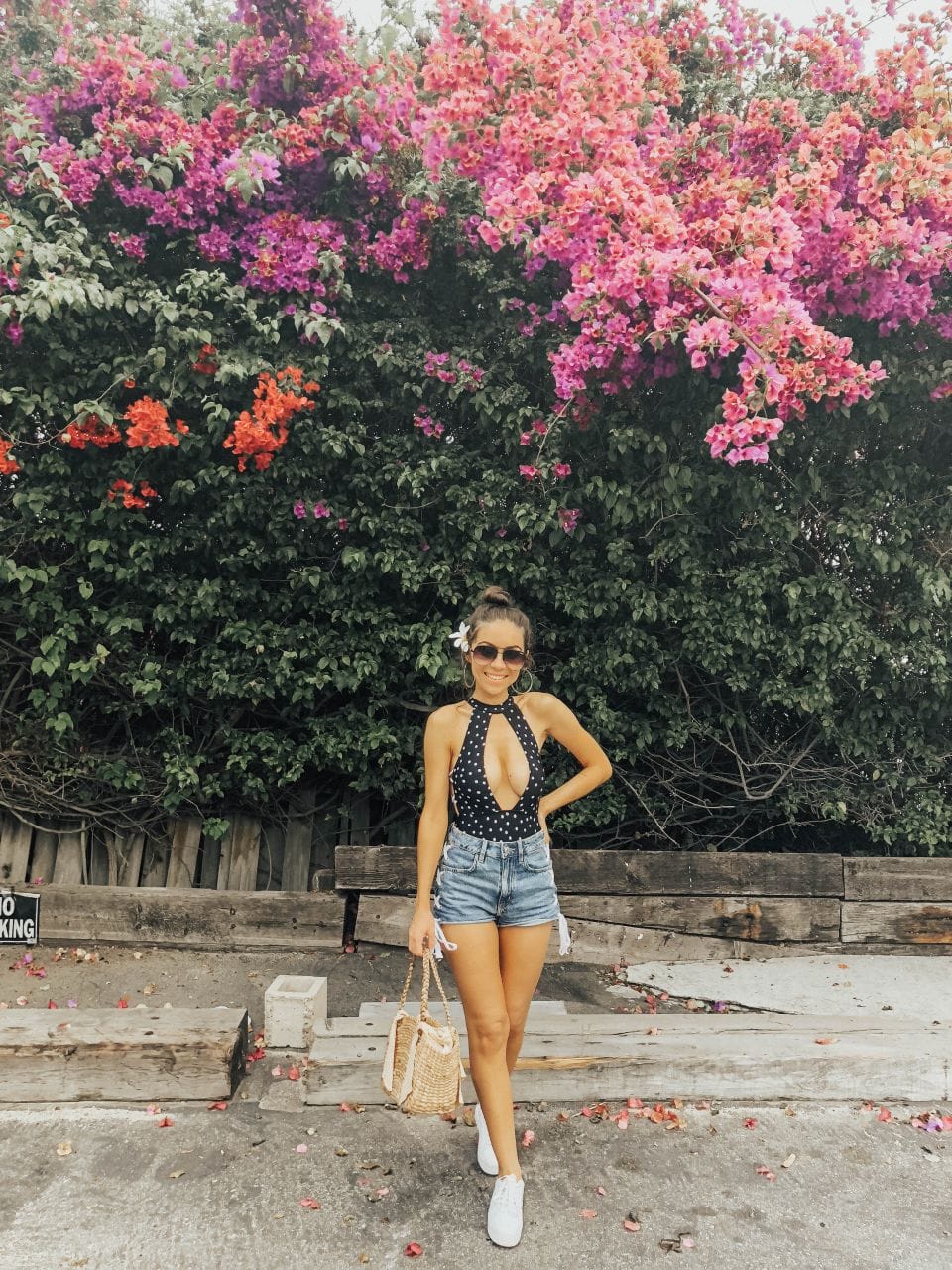 Check out the links below to see my current favorite polka dot pieces from River Island!