Nothing makes me happier than checking off locations/hotels from my bucket list! Solvang has been on my bucket list for about two years now. Often called 'America's Little Denmark,' the area has been trending and becoming more sophisticated lately. You can't beat the ease of access, only a few hours from both LA and SD, with lots of PCH/ocean views and mountains. (Make sure to fill up your tank before you leave because gas is expensive in Solvang).
If you've never heard of Solvang before — to be honest, I only heard about it 2 years ago — you might recognize it from the photos of the gabled roofs, windmills, Danish bakeries on Instagram, or know it from the movie 'Sideways' starring Paul Giamatti and Thomas Haden Church.
As I researched the hotels in Solvang last year, it became apparent that The Landsby was the most stylish boutique hotel in the area. It's typically sold out or booked up for weddings, so I patiently waited to plan my first Solvang trip based on their availability. And I'm so glad I did!
As soon as you spot the building, conveniently located in a prime corner of Solvang Town Square, The Landsby's Scandinavian architecture grabs your attention. When you step into the lobby, you immediately notice the contemporary, modern design blended with a traditional Scandinavian aesthetic. It all works together to create a cozy, welcoming vibe.
Our room, one of the 41 at the property, was spacious and luxe. I loved the open layout with minimalist design touches. The bathroom, vanity area, and closet were somewhat separate, so it felt like a studio apartment.
The big and beautiful ostrich artwork in our room, painted by a local artist, was a nice nod to the area, which is known for its ostriches. In fact, there's a famous ostrich farm nearby.
My favorite aspects of the room were the comfy beds, spacious vanity area, and an aesthetically pleasing balcony that overlooked the picturesque courtyard.
On our second morning, we had brunch at the courtyard, which is one of the prettiest courtyards I've ever seen! The fire pits, backdoors to little shops from the main street, cute chairs, and lots of open space are 100% aesthetically pleasing. No wonder this area is popular for weddings! Plus, the food was incredible. It was one of the best brunches I've ever had.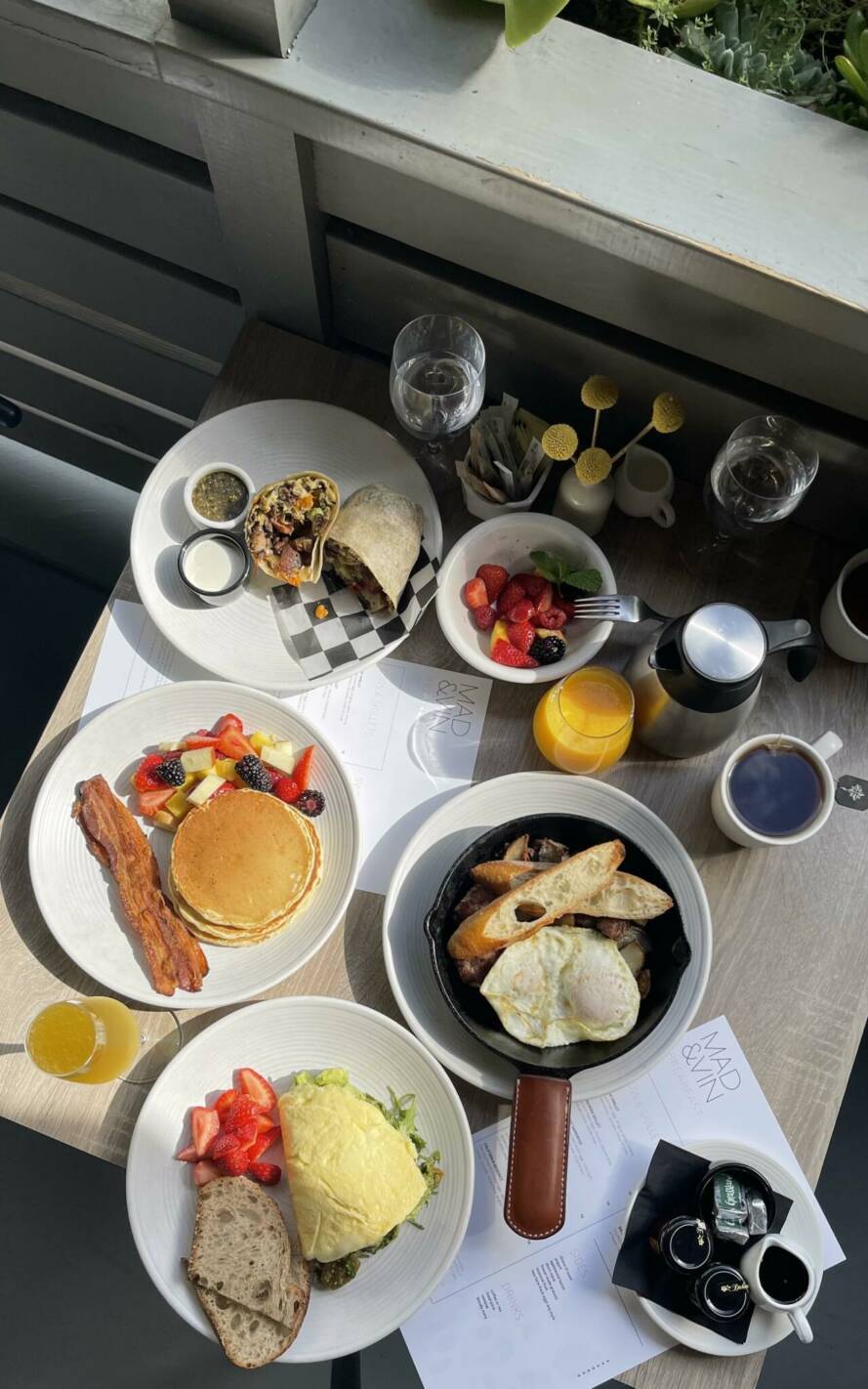 Let's talk about the restaurant and bar! We were invited for happy hour one day and planned to get dinner afterward. But the happy hour menu was so extensive, and everything was so good (and affordable) that our happy hour time turned into dinnertime. Cocktails and local wines were obviously delicious and high-quality. It's the wine country, after all. Even if you're not staying at The Landsby, make sure to stop by, check out the modern lobby, and grab a drink at the bar.
The friendly staff at The Landsby offered us an exclusive Local Winery Guide with coupons and deals like complimentary or 2-for-1 wine tastings at some of the best wineries in the area. Since most wineries close early during the week (as early as 6 pm), we couldn't use all of the deals (there were a lot!), but we used a few of them and saved $$$. The wineries we went to were Lucas & Lewellen and Dana V Wines, and they were both fantastic. Especially Dana V Wines, where we spent a few hours trying different wines, listening to live music on their patio while keeping warm near the firepit. It was a memorable Friday night. Their friendly manager, Tim, gave us lots of helpful information about their wines and the area. I love chatting with locals during my travels.
I LOVE how The Landsby brings a fresh and hip aesthetic to Solvang — a small, traditional wine country town that is fully committed to its Scandinavian heritage. Make sure to add this unique and stylish accommodation to your bucket list. If you end up going there or have any questions, leave a message here or message me on Instagram!
I have a reel of my stay/property tour from The Landsby – watch it HERE. For my Instagram stories from this stay, click HERE.
xoxo
Nihan