Cambria surprised and impressed me with its natural beauty and deserted vibes – only 6,000 people live in this small, charming town.
I'm embarrassed to admit that I've lived in California for almost 14 years, and this was my first time in Cambria. I travel the world, but I skip what's around me. The pandemic is teaching us all sorts of lessons, and for me, exploring what's closer to me was a big one. I'm forever grateful for the redirections in life.

I liked my beachfront hotel so much that I didn't even explore Cambria during this first visit. Instead, I hung out at the hotel, spending most of my time soaking in the sunsets and taking mental pictures at Moonstone beach (Ok, maybe 'a few' actual pictures too).
In the past, I used to be attracted to big cities like Tokyo and London, but today, in the social distancing era, I've found serenity in peaceful Cambria–my new favorite getaway, just hours away from home. Besides feeling safer than I do in larger cities, Cambria offered me an uncrowded, nature-filled home-away-from-home.
I found out about White Water via Tablet Hotels and Hotel Tonight, two travel websites/apps I always use when I travel. I'm usually very familiar with boutique and design hotels, but since White Water opened just a few months ago, I didn't know about it until I saw it online.
The clean design, oceanfront location, and effortless vibes immediately piqued my interest, and I decided to make it (and Cambria) the second stop of my solo Central California road trip – the first was San Luis Obispo. And I'm so glad I did.
The lobby area of White Water Cambria is absolutely breathtaking! The natural light and the big windows that look up to the tranquil Monterey Pines are unforgettable. Monterey Pines are rare – their native forests are so rare that there are only five left in the world. The decor was curated by interior designer Nina Freudenberger, who wanted White Water to have a "Danish seaside" feel and to reflect the textures that set Cambria apart from its beach brethren further south. And she did that beautifully!
Though the lobby area and bar are currently closed for safety reasons, during check-in, I took a quick peek and snapped a few pictures (I mean, how could I resist?) I would love to return someday, hang out and browse the books and magazines, even do a photoshoot in that beautiful lobby. Hopefully next time, in a post-pandemic world.
Let's talk about the rooms. There are only 25 rooms on the property, making it an intimate boutique hotel, just the way I like it. The first room I stayed in (#20) was a deluxe king, a good size for a hotel room at 250 square feet.
My favorite features of this room were:
The (partial) ocean view.

The beautiful gas fireplace.

Aesop bath products (which I love).

The Instagramable bathroom with gorgeous tiles and a selfie-perfect mirror.
My dog's favorite part of the room was the comfy seating area with the pillows. He stalked me perfectly from that spot. Yes, White Water Cambria welcomes dogs. Pet-friendly vibes are a must for me. My furry baby goes everywhere with me nowadays, even though he doesn't like traveling as much as I do.
Easy access to the outside world was everything to me during this stay; it was something I've been craving. I currently live in an apartment, and it takes me 10 minutes to get out of my building–even to walk my dog. Opening my room door, being outside instantly, walking to the beach in less than a minute, and accessing my car within seconds are things I don't have in my hectic city life.
Anyway, I shared a tour of this room on my Instagram reels. You can watch it HERE.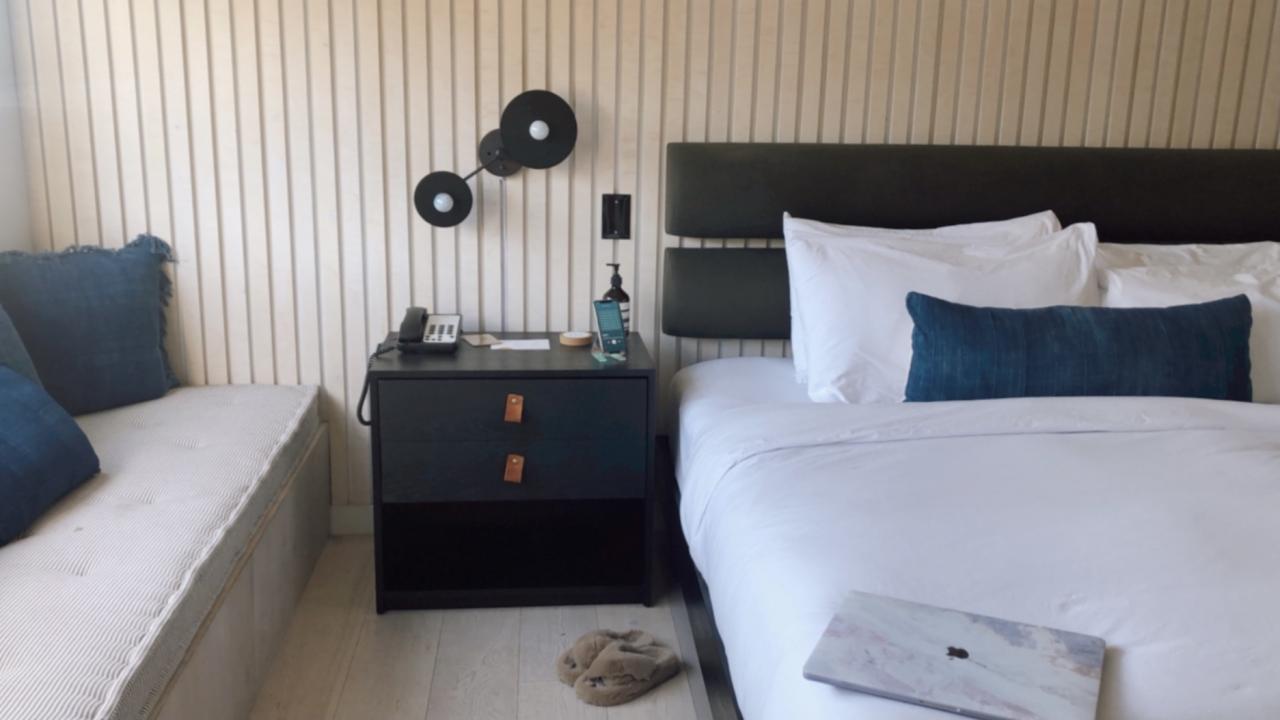 SHOP THIS LOOK
I had a few minor issues, like ants in my room and WiFi not working properly, so I was offered a room upgrade on my second day. I do not pack light (no shame, sisters), so packing up again after unpacking (on a two-night stay) was not ideal, but I wanted to experience more of this property, so I accepted the offer.
The second room was a premier king room, and it was much bigger than the previous room, at 350 square feet. The extra space allowed for additional areas like a little office with a desk and a bench seat by the large windows, which was so lovely to have. Perfect for couples and families. I was solo, and I still appreciated it very much.
Unfortunately, the WiFi was much worse in this room. It worked a bit on my laptop, but it didn't work at all on either of my phones. Neither was 4G, perhaps because of the beachfront location. Keep this in mind if you must use the internet during your stay. I'm fine without it for a few days, but having the option is always nice.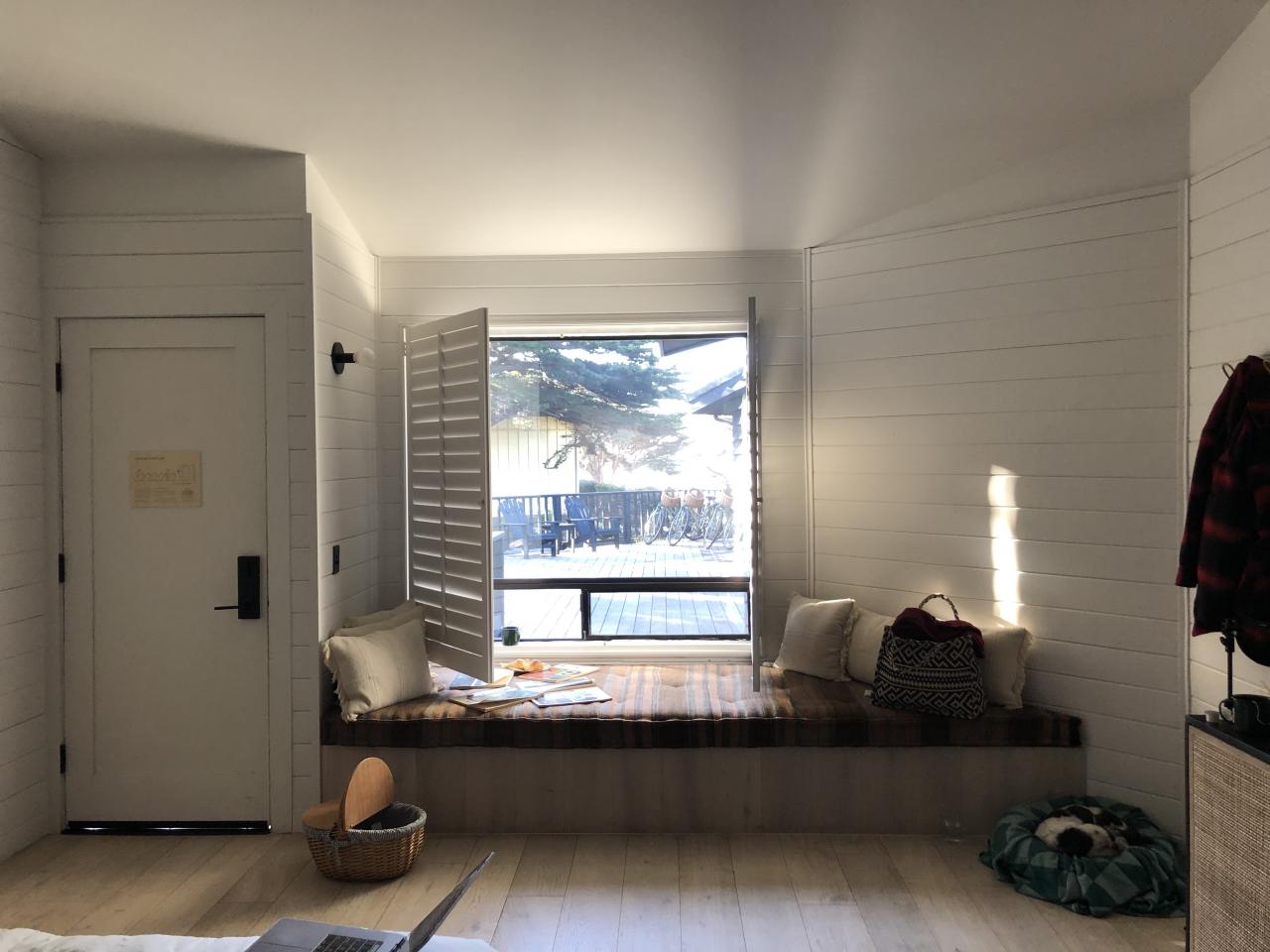 Hopefully, on my next visit, there will be more food options at the property. I didn't see anything that made me super excited, and options were super limited. I noticed that other people left similar reviews on a few booking sites.
However, if you're a design lover like me, who enjoys quiet getaways and sunsets over the ocean, definitely put White Water on your travel bucket list. You won't regret it.

I recommend booking on Hotel Tonight (Use my code NGRKEM to get $50 off your booking).
Stay safe,
Nihan