It's hard for me to admit it, but it's a fact: fall has arrived. Fall used to be my favorite season, but nowadays it's summer.
It's going to be warm here in San Diego for a few more weeks. But I can definitely feel the season changing.
Early morning and late-night chilly weather. And of course, pumpkin spice vibes everywhere.
Since temperatures and humidity are slowly but surely dropping, our skins are going to get dry, and the way our skin reacts to the new temperatures changes too. Mine definitely does, and I need to level up my skincare routine. And you should too.
In fact, it's crucial if your skincare is important for you.
Here are a few skincare tweaks you can make to fortify against the cooler temps and drier air, according to the experts.
So I gathered my top 12 skin-related tips for a smooth transition from summer to fall, and to fight against the cooler temps and drier air. And yes, I actually had my esthetician read this article before I published it, so when I say these tips are esthetician approved, I'm not lying. I hope you find it useful!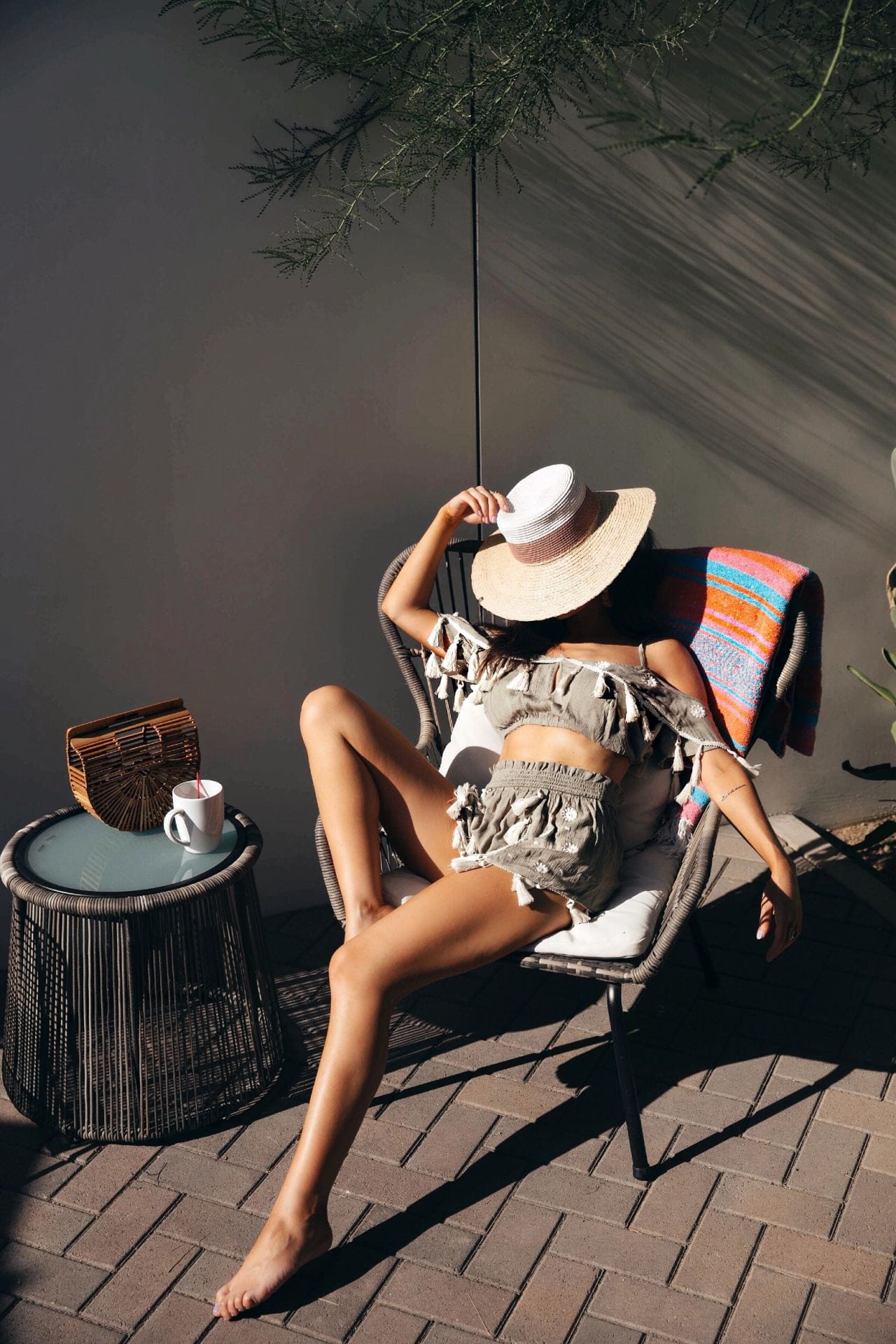 SWITCH TO A THICKER MOISTURIZER
Swap lightweight/oil-free moisturizers you've been slathering on all summer for thicker moisturizers/creams since your skin needs to be replenished and nourished during the colder months.
Some of my favorites are Charlotte Tillbury Magic Cream and Fresh Rose Deep Hydration Moisturizer.
2. OILS ARE YOUR FRIEND
Incorporate oils into your skincare routine. I've been using face oil instead of serum in the mornings since last week, but I'll probably use both as the weather gets colder.
If the transition from summer to fall is intense on your skin, or if you have a skin condition like psoriasis or eczema, you might even want to try essential oils, cold-processed aloe.
3. TAKE IT EASY ON EXFOLIATING
This is time to be gentle with your skin and cut back on harsh exfoliation products. According to experts, humidity and warm temperatures usually buffer the irritating effects of topical retinoids and exfoliants, probably because of increased oiliness of the skin. I haven't personally tried retinoids or glycolics, but if these are a part of your skincare, I recommend cutting back on and using more gentle products like peel pads or lightweight exfoliants like Dermalogica's Daily Microfoliant Exfoliator or Boscia Exfoliating Peel Gel.
4. USE A THICKER EYE CREAM AND LIP MOISTURIZER
These two skincare essentials should ALWAYS be a part of your skincare regime. But if they're still not, what are you waiting for? Summer to fall transition is the perfect time to incorporate them into your routine.
Just like I switch to a thicker moisturizer, I also switch to more moisturizing versions of my eye cream and lip moisturizer. My skin does not like sudden transitions, and using a more intense helps with this transition. My current favorite eye cream for the past year has been Skyn Iceland Icelandic Relief Eye Cream with Glacial Flower Extract (I keep this in the fridge so it works double duty as a refresher) and for lip, it's Sara Happ The Lip Slip One Luxe Balm.
5. EYE GELS ARE GOLD
My under eyes get dry a lot, especially with the heat on full blast, so I make sure pop these eye gels right before a photoshoot/dinner/event or the night before an important day during colder months. My current favorite ones are the eye firming gels by Skyn Iceland and FlashPatch Night Restoring Eye Gels by Patchology.
6. DON'T FORGET BODY CARE
In summer, I can get away with not putting on lotion on my skin after showering (not ideal but if I'm in a super rush/tired, etc.), but in colder months, my skin begs for more moisture. If I'm not moisturizing my body head to toe, it gets dry and itchy. I feel like I'm punishing my body, and it's aging!
I'm currently obsessed with the body moisturizer and body oil by MiaMarcia Skincare, created by the estheticians at Urban Skincare in San Diego. I love that these products can be used on your face as well, which makes them perfect for traveling! P.S.: They're my current go-to products to preserve my spray tan. They're non-toxic, cruelty-free and natural certified organic.
TIP: After shower, apply body oil/moisturizer while your skin is still damp. This helps the products penetrate better and the skin absorbs the products better.
Other body products I recommend are coconut melt by Kopari, body moisturizer/lotions by Kai and shower foams/body creams by Rituals.
7. MASK IT UP
I'm a big fan of face masks: traditional types and sheet masks. They're one of the easiest ways your skin can stock up on moisture, and you can use them on the go too. Use a mask like Boscia's matcha magic super green tea antioxidant mask once a week as a part of your nighttime skincare routine (one of my favs – used it last night) or a sheet mask like Forever Glow Anti-Aging Face Mask by Joanna Vargas for the added anti-aging ingredients.
8. DON'T STOP Using Sunscreen
I'm sure you already know this, but I'm going to say it anyway. While UV radiation is more significant during the summertime, it's still present throughout all seasons. And that means you should use sunscreen at all times because it generally helps decrease the incoming UV radiation. The one I've been using is the Image Skincare Prevention+ Daily Ultimate Protection Moisturizer, SPF 50.
9. COLLAGEN IS EVERYTHING
Using collagen is one of the best things you can do for your skin! No matter what the season is. The reason why is another blog post but nourishing your skin with elastin and collagen to during the season change will definitely help your skin. I'm guilty of not using collagen consistently, in fact, I've only used it a few times and couldn't keep up. But one of my beauty goals is to use collagen consistently so I just ordered the GOOPGENES MARINE COLLAGEN SUPERPOWDER from GOOP (it actually arrived today!), and I'm already excited to try it!
10. A BRIGHTENING TREATMENT TO BRIGHTEN YOUR LIFE
If you have post-summer sun damage or summer stressed skin, fall is the best time to also repair all of that. Start adding a brightener or lightening treatment 2 to 3 times a week at night and say bye-bye to sunspots!
11. Try a humidifier
I haven't tried this one myself, but dermatologists suggest that, along with your regular skincare regimen, using a humidifier during the fall and winter to boost hydration at home. The more moisture in the air, the more moisture it'll share with your skin.
Experts also recommend to turn it on as soon as you put the heat on for best results.
I've got my eyes on this chic humidifier:
12. GET A FACIAL
And finally, whether you just got back from a vacation or not, I definitely recommend getting a facial to help your skin get a reset after summer.
The traveling, heat, sweat, humidity, sunscreens, and pollution add up to griminess that often requires kicking a deep skin cleanse.
And trust me, your at-home facials just won't do that.
That's why you need a REAL facial. If you've been following me for a while, then you know how much I'm into my monthly facials. I had to skip a few facials this summer due to a few trips, and it showed on my skin. I broke out more than usual, and my skin felt filthy and oily. If you're looking for a reputable spa to get facials in San Diego, I highly recommend Urban Skincare. I've been getting my facials there for almost 1,5 yrs now, and I love that place! The founders Larissa and Erin are both super sweet and amazing at what they do. They also just came out with a skincare line – MiaMarcia Skincare – which I'm currently testing out and loving!
Let me know how you change your skincare routine from summer to fall! Would love to know!
xoxo
Nihan