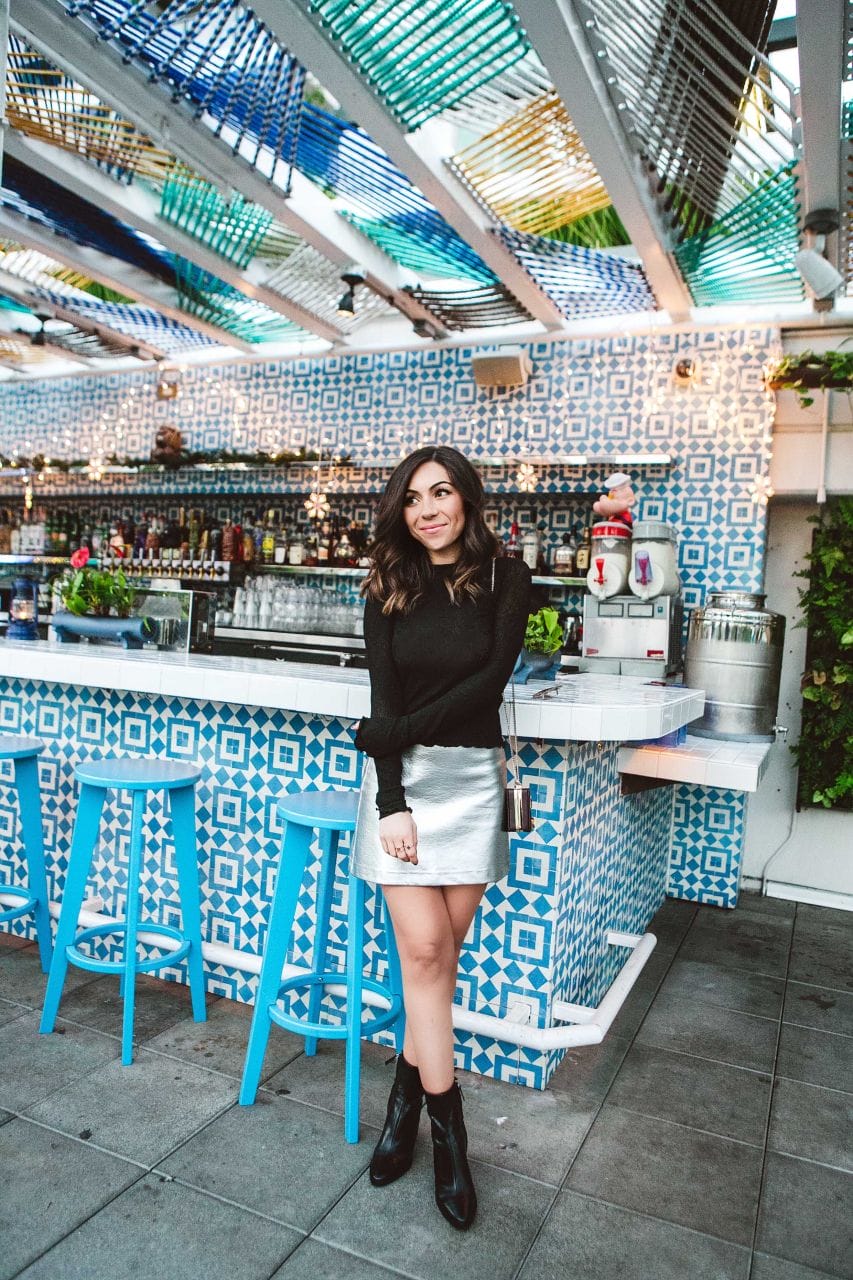 One of my favorite spots in East Village, Fairweather not only has one of the best decors in town (sparking turquoise tiles, anyone?), but it also has one of the best views in town – overlooking Petco Park stadium.
It's hidden gem spot, on the second floor or a restaurant (Rare form) so it's not of those spots you'd randomly discover. You might have to search for it, but it's definitely worth the search!
You guys know I love me some color, and vibrant, colorful and intimate spots always attract me. Their drinks are pretty epic too. Their lineup of tropical and fruity cocktails are right up my alley. Plus, who can resist unique cocktails that have fun and cute cocktail names like Oaxacan Dead (Mezcal and rum), Monkey's Junk (coconut, bananas & cacao rum – YUM!)), Rum Row (an aged Old Fashioned with coconut bitters and banana liqueur), and the lighthearted Piece of Advice?
Definitely check out this hip & trendy rooftop when you're in San Diego – especially during warm months.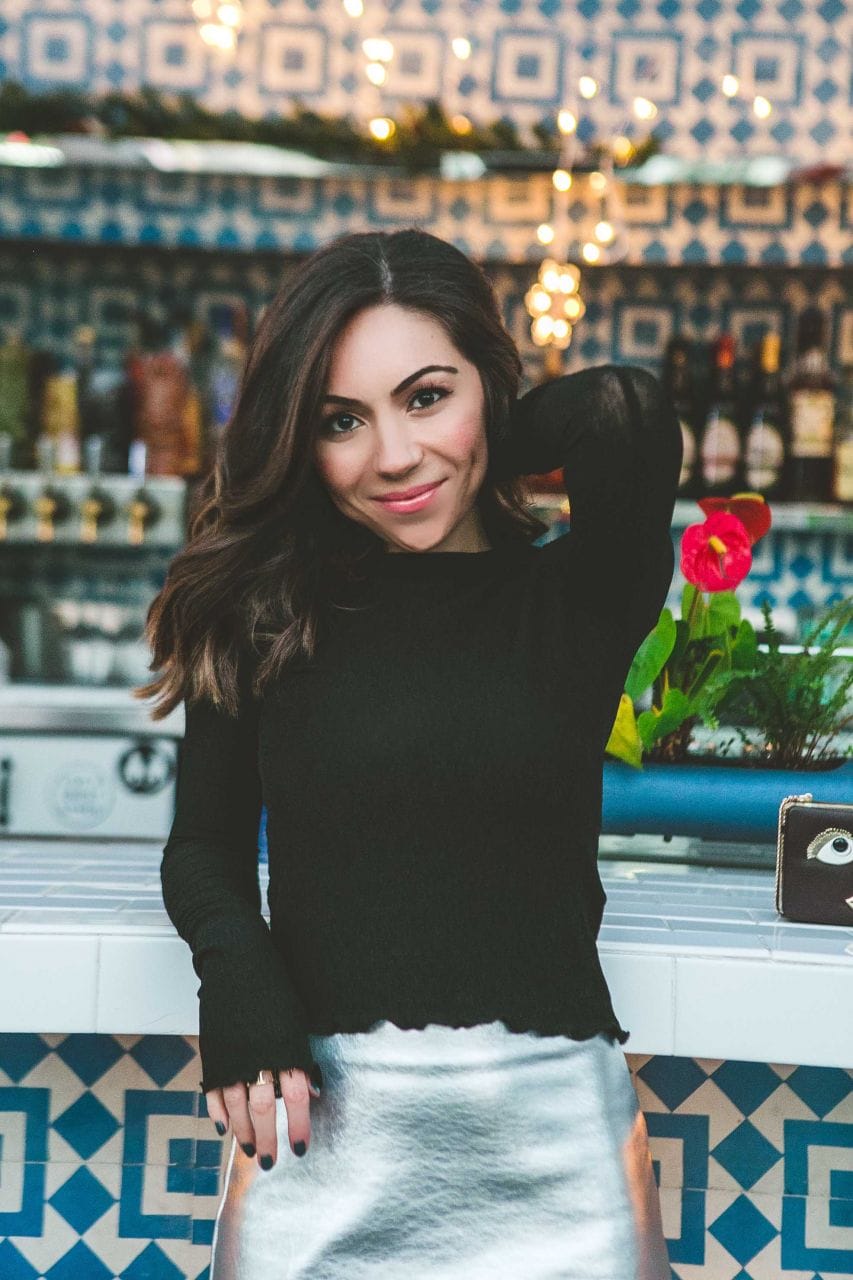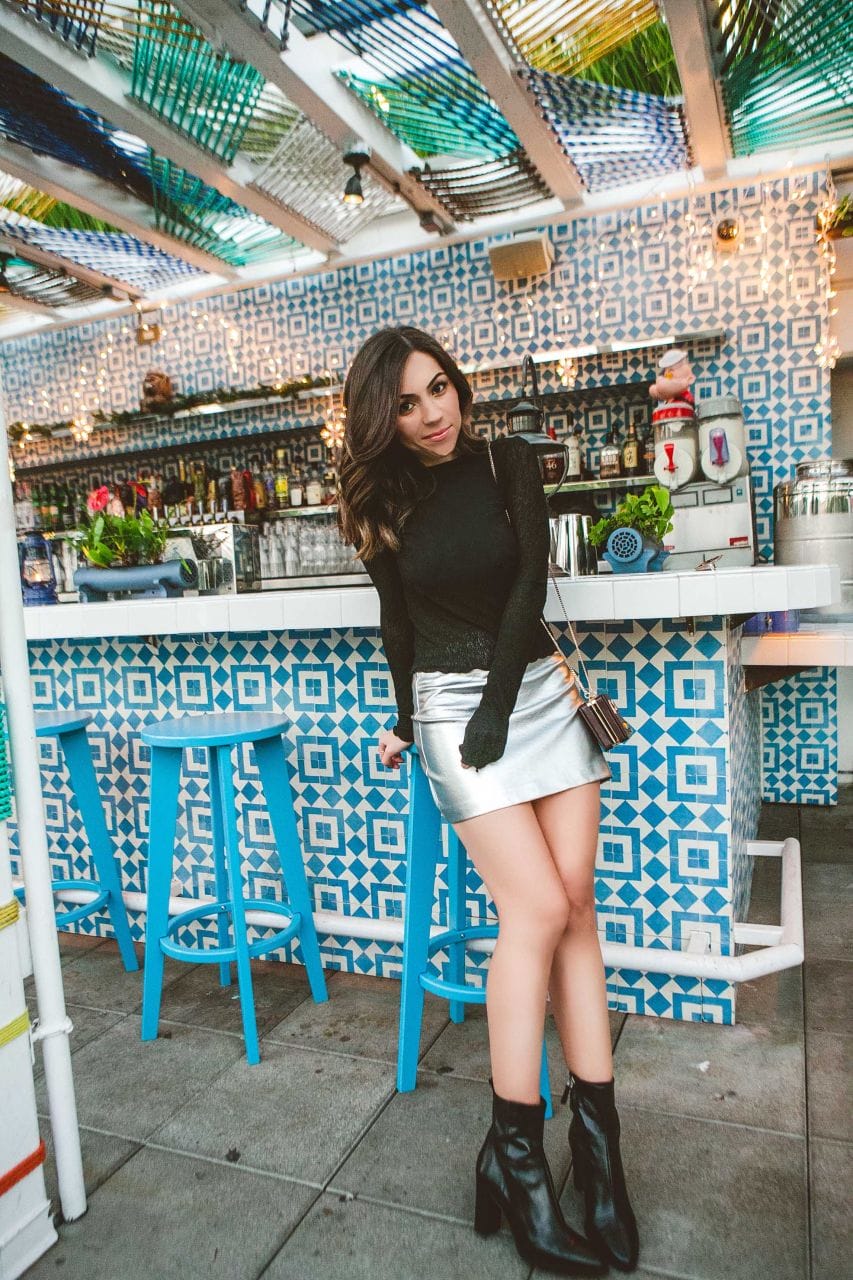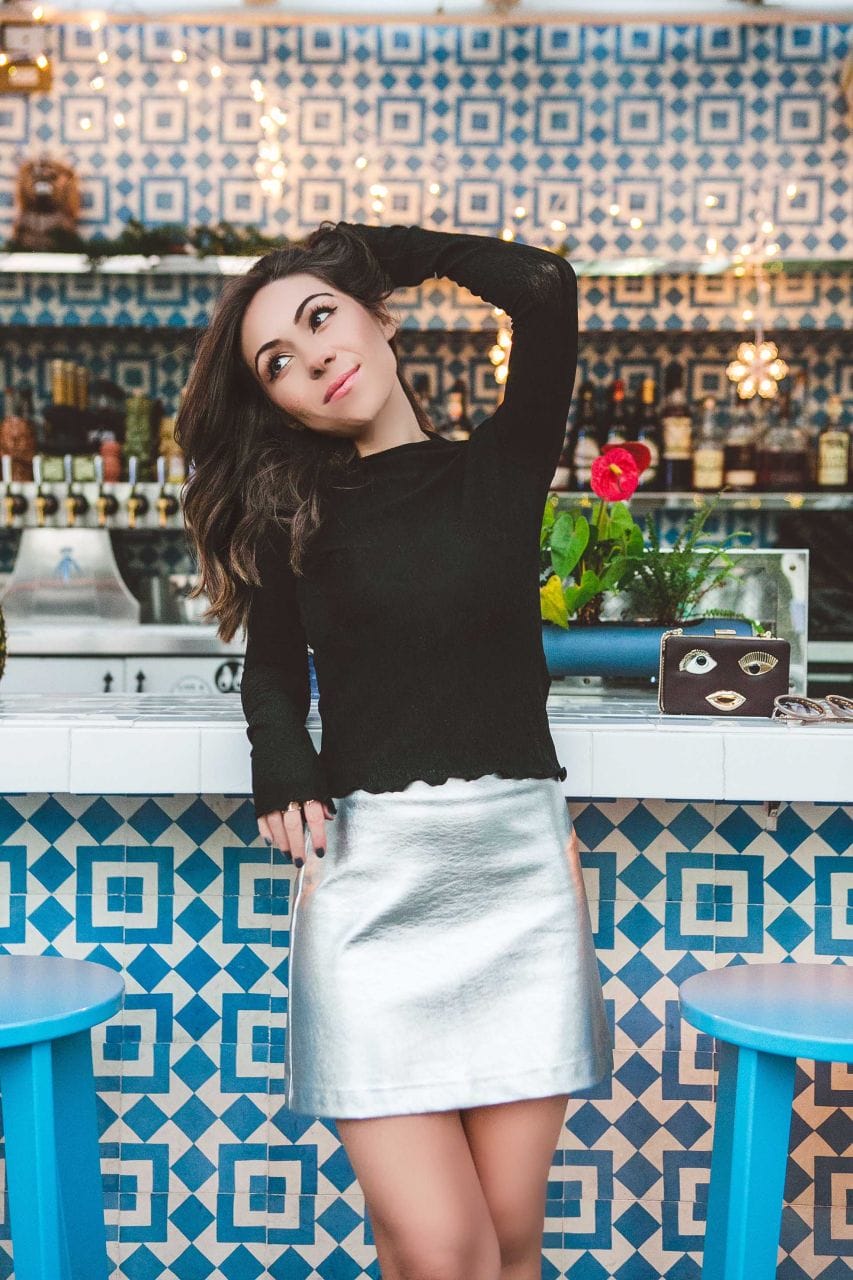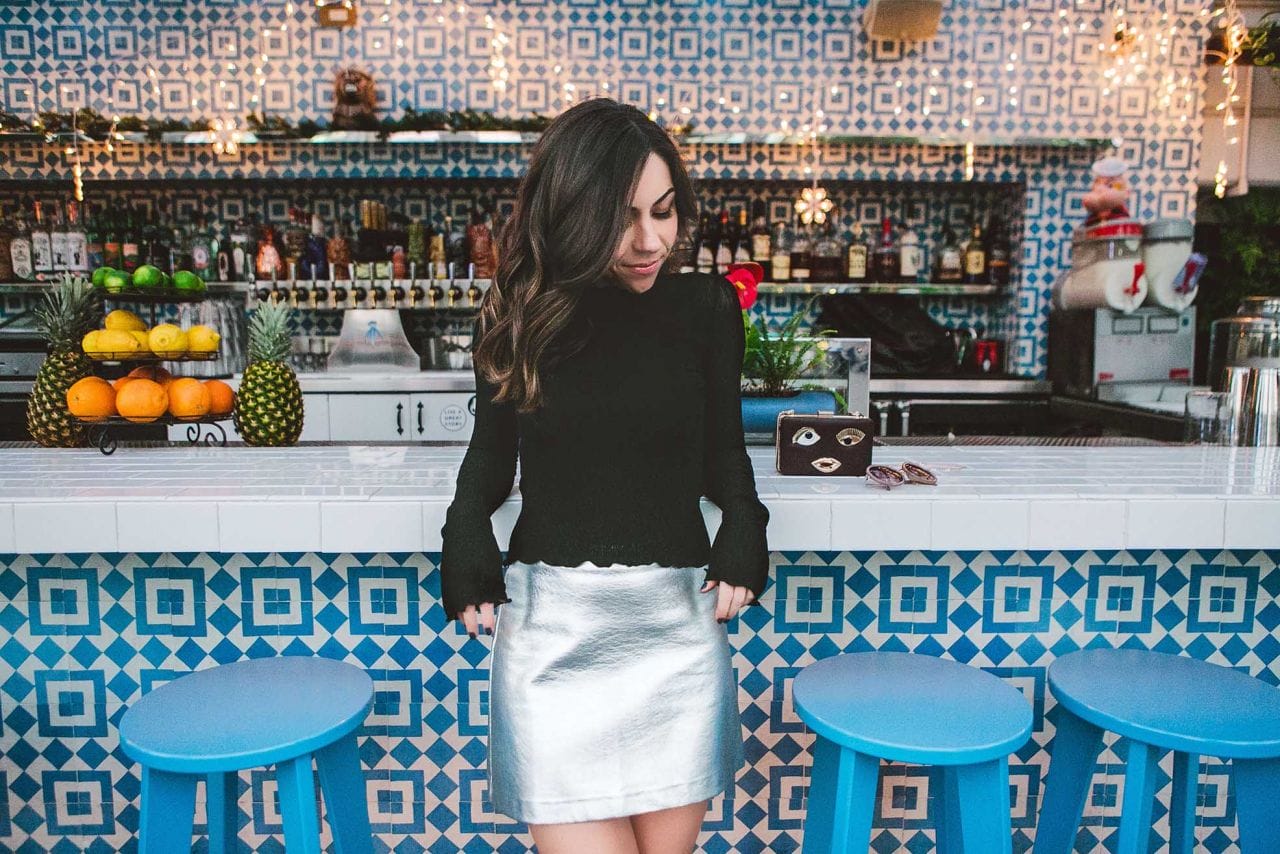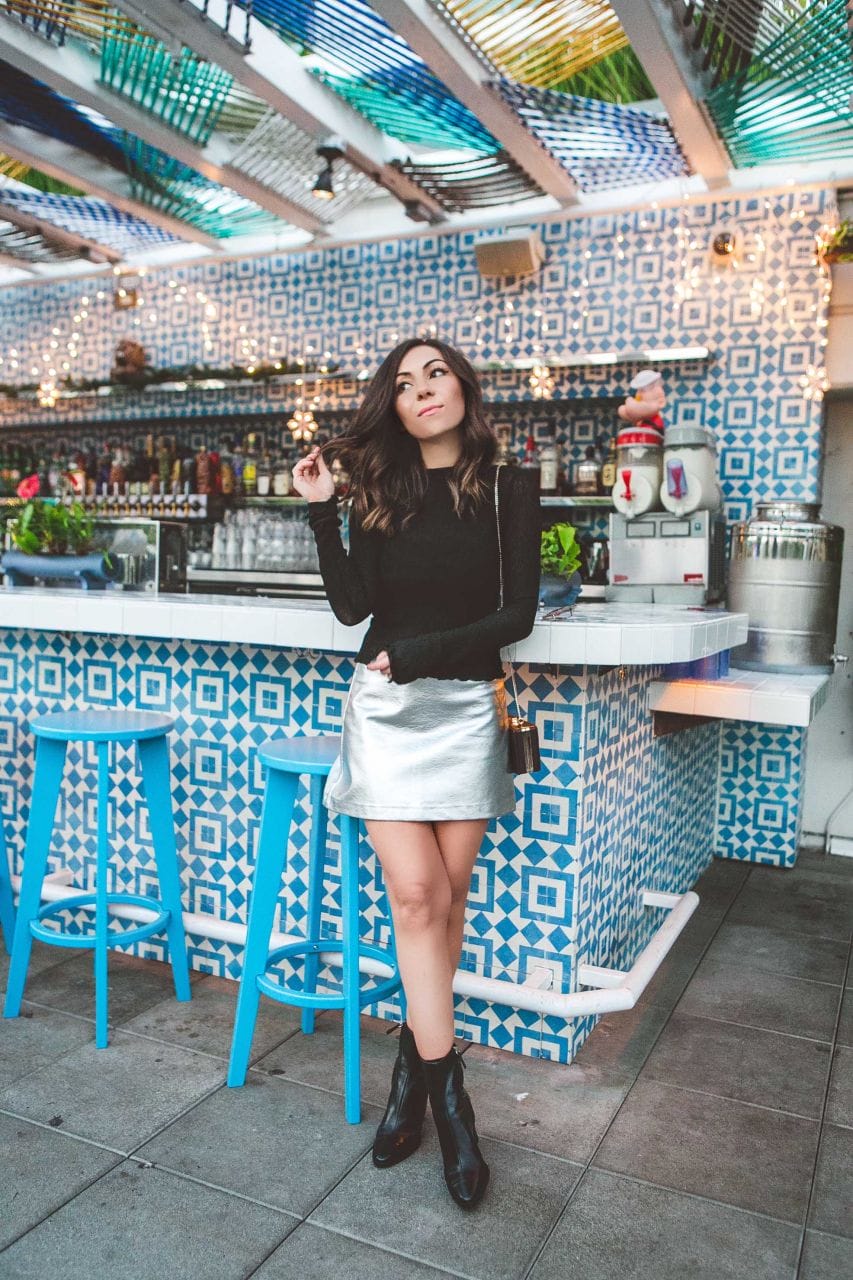 On a fashion note, the last look I posted was for those of you who want to get all glammed up, so this one is a bit more casual but still perfect for the girl who wants to shine. Incorporating shimmer into your outfits is easier than ever and I found the best skirt to do that!
I decided to style this outfit casually with these awesome ankle booties. A lot of people celebrate NYE outdoors, so this look is perfect for if you're going to be walking a lot or if you're just not into high-heels in general.
I got these black boots back in November and have worn them so much since then, but never here on the blog. And they're actually comfortable! I decided to make this outfit a little more festive by adding some silver. Previously, I've worn these with a velvet slip dress and a denim jacket, black leggings and an oversized sweater.
Silver is still my favorite color of the moment and you know how much I'm into this color if you've read my last few blog posts. The skirt is definitely the attention grabber of this look. I've always loved simple mini skirts like this one since they're effortlessly classic and feminine. And the color of this one makes it perfect for a NYE party or even just chilling at home honestly, which is probably what I'll be doing this year. I'm not into drinking and whenever I go out on NYE, it's always chaos. Parking, traffic, drinking and everything else becomes a problem, plus it's always super expensive. That's why I prefer to be staying in, cooking delicious food and watching movies with my little pup and boyfriend this year. Will you be staying in or going out this year? Let me know in the comments below!
SHOP MY LOOK